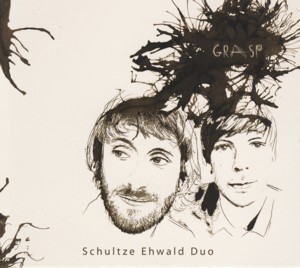 SCHULTZE EHWALD DUO ~ GRASP
WHYPLAYJAZZ 013 (Barcode: 4050486903179) ~ GERMANY ~ Jazz
Recorded: 2012
Released: 2014
---
This is the debut album by the duo comprising of German pianist / composer Stefan Schultze

Find albums by this artist

and saxophonist / composer Peter Ehwald

Find albums by this artist

. The two played together in several ensembles during the last decade but this is their debut as a duo. The album includes six original compositions, four by Ehwald and two by Schultze.

The music is a wonderfully romantic / lyrical contemporary Jazz, very melodic but absolutely non-trivial. The tunes are masterfully woven by both composers, clearly a continuation of the European Classical Neoromanticism transferred into the Jazz idiom. There is also a certain elegant minimalism, which is manifested by the "less is more" approach, where the essential notes and chords are stated without much ornamentation.

The performances are similarly modest, crystal clear and stylishly beautiful, without a shade of unnecessary sweetness or overdue syrupy tendencies, which often characterize similar efforts. Ehwald has a gorgeous tenor saxophone tone, which is unmistakably top-class. Schultze displays wonderful dynamics in his usage of the piano, cleverly moving between the foreground as a soloist and the background as an accompanist. Most impressive of course is their work as a team, which is the essence of this album, being truly exemplary. This is clearly a team effort without any attempts to dominate, and as a result the listener is treated to a piece of music, which is both emotionally moving and intellectually intriguing.

This album is a classic example how melodic / romantic music can be artistic and ambitious, a complete antidote to the dreaded muzak of smooth Jazz, and as such deserves to become a scholarly model. Gentle souls and die-hard romantics like me will definitely have a field day with this music, as should most Jazz loving listeners. Wholeheartedly recommended!
---