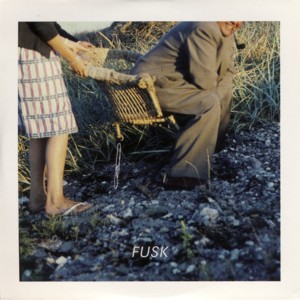 FUSK ~ FUSK
WHYPLAYJAZZ 005 (Barcode: 4050486034583) ~ DENMARK ~ Jazz
Recorded: 2010
Released: 2011
---
This is the debut album by the Danish / German quartet FUSK

Find albums by this artist

led by Danish drummer / composer Kasper Tom Christiansen

Find albums by this artist

, which also features the Danish bassist Andreas Lang

Find albums by this artist

and the German saxophonist Philipp Gropper

Find albums by this artist

and bass clarinetist Rudi Mahall

Find albums by this artist

, who is also a member of the Kasper Tom 5

Find albums by this artist

ensemble. The album presents nine original compositions, seven of which are by Christiansen and the remaining two are group compositions.

This album is a superb example of contemporary modern European Jazz developed and created by a young generation of greatly talented individuals who are lucky to grow up in the affluent borderless Europe, which enables a much wider access to musical education and international cooperation than just a few decades earlier. These young musicians are able to size the moment and exploit this new reality, which results in an explosion of young international groups playing Jazz and Improvised Music all over the continent.

Christiansen, who has been recoding music both as a leader and a sideman for several years before forming FUSK, established his position as one of the leaders of this new European scene, playing extensively with Scandinavian, German, Polish and other young musicians and additionally developing his skills as a composer, which came to full fruition with FUSK. Here he presents his most adventurous works and the quartet turned out to be an ideal vehicle for exploring his music. He is one of the relatively few drummers, who are bandleaders and principal composers in their ensembles.

As a team Christiansen and Lang are one of the strongest and most imaginative rhythm sections on the European scene and this album is full of wonderful examples of their telepathic interplay. Supported by such an excellent rhythm section the two soloists are able to spread their wings and explore the freedom of improvisation in full. Both Gropper and Mahall gently weave their lush structures, both individually and collectively, creating a highly aesthetic whole.

Overall this is an exciting and wonderful album from start to finish, full of surprises and one that keeps the listener on his toes from start to finish. Considering the fact that it is a debut recording, the result is even more commendable. Well done indeed!
---