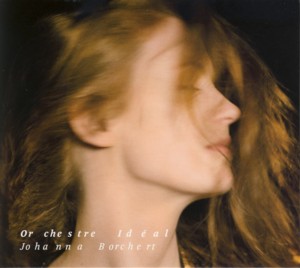 JOHANNA BORCHERT ~ ORCHESTRE IDEAL
WHYPLAYJAZZ 008 (Barcode: 4050486078013) ~ GERMANY ~ Jazz-Classical Fusion
Recorded: 2011
Released: 2012
---
This is the debut solo album by German pianist / composer Johanna Borchert

Find albums by this artist

, which comprises of thirteen relatively short solo piano pieces, nine of which are freely improvised and four are improvisations based on her compositions.

Although mostly spontaneously improvised this music has very little if anything to do with Improvised Music as in the Avant-Garde Jazz idiom and is deeply rooted in contemporary Classical music, mainly in the vicinity of the French modernists like Claude Debussy

Find albums by this artist

, Eric Satie

Find albums by this artist

, Oliver Messiaen

Find albums by this artist

and others. Some of these pieces are minimalist, others more developed, but the overall atmosphere is predominantly characterized by the sonorities typical of these composers and their particular approach to music.

The music is mostly very delicate and introvert, which makes it quite difficult for most of the listeners, who have little experience with such demanding and ambitious ventures. Therefore this music might work well when played live but listening to it at home might prove to be over the top for most people.

Of course one must support artists willing to take risks and statements like this one are always a sign of the intellect overcoming the musical futility that overwhelmingly surrounds us. Sadly I´m probably one of very few people who really like this music, as it unfortunately falls in between; the Jazz oriented people will find it to romantic and the Classical buffs to bold.

So ye brave-hearted embrace this little gem wholeheartedly and others, please investigate other recordings by Borchert, which are surely of the same quality but probably slightly more accessible.
---