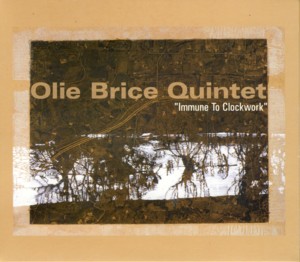 OLIE BRICE ~ IMMUNE TO CLOCKWORK
MULTIKULTI MPI 026 (Barcode: 5907796319529) ~ UK ~ Jazz
Recorded: 2013
Released: 2014
---
This is the debut album by a quintet led by British Jazz bassist / composer Olie Brice

Find albums by this artist

, which also includes saxophonist Mark Hanslip

Find albums by this artist

, trumpeter Alex Bonney

Find albums by this artist

, drummer Jeff Williams

Find albums by this artist

and leading Polish clarinetist Waclaw Zimpel

Find albums by this artist

. The album presents seven original compositions, all by Brice.

Brice has been active on the British (mostly London based) Improvised Music scene since a few years and is involved with several ensembles in parallel, some as a leader and others as a band member. He also cooperated with the Polish Jazz saxophonist / clarinetists / composer Mikolaj Trzaska

Find albums by this artist

in the past, expanding the British / Polish Improvised Music interaction, which often produces excellent results.

The music is surprising, and contrary to the accepted image of Improvised Music, beautifully lyrical and melody based. The three soloists are featured extensively, playing long and well constructed solo improvisations and collective improvisations. Most notably Zimpel, who plays here more explicitly and vividly than on the Polish albums he lately recorded as a leader, those being more contemplative and less Jazz oriented than this recording. Therefore Zimpel followers can hear some of his the best moments captured in a long time.

Brice, apart from being the composer, also sets the overall direction of the album with his solid bass lines, which are the backbone of this music. He sets the tempo variations and the passage between the unisono theme statements, the solos and the group improvisation parts. Therefore he fulfills his role as a leader in full in addition to being part of the ensemble. Williams also deserves praise for following Brice´s moves closely and applying his rhythmic layer with grace and obvious sympathy. Although he does anything but keeping time, the result is well in check, with him keeping time without actually keeping time, a rare gift which only the best drummers can handle really well.

In many respects this album sounds a bit retrograde, and I mean it in the most positive sense, bringing back fond memories of the wonderful British Jazz recordings by early Free Jazz / Improvised Music ensembles in the late 1960s. There was the same level of serenity and non-aggressiveness present than, which was almost completely lost over the years with Improvised Music musicians often trying to outshout each other rather than integrate.

Overall this album is a beautiful and pleasing listening experience, which serves well the image of Improvised Music at its best. Congrats Olie for doing your thing and selecting the right folk to do it with. Well done indeed!
---