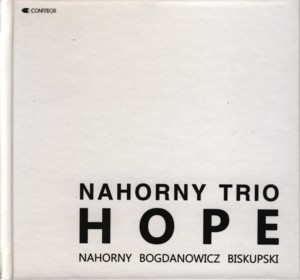 WLODZIMIERZ NAHORNY ~ HOPE
CONFITEOR 008 (Barcode: 9788393161089) ~ POLAND ~ Jazz
Recorded: 2013
Released: 2014
---
This is a wonderful piano trio album by one of the Godfathers of Polish Jazz, pianist / composer Wlodzimierz Nahorny

Find albums by this artist

, and his partners: bassist Mariusz Bogdanowicz

Find albums by this artist

and drummer Piotr Biskupski

Find albums by this artist

. The album presents six original compositions by Nahorny and one mini-suite, which comprises of three folklore motifs arranged by him. In the accompanying booklet Nahorny tells the listener about the circumstances that brought each of these seven pieces of music to be created, as well as his deeply personal and moving memories of the panoramic view of the Holy City of Jerusalem, which always leaves a lasting impression on those who visit it. How blessed are we, who live nearby and are able to enjoy this breathtaking view more often than others.

It is truly invigorating to see (and hear) a musician, who seems to be completely unaffected by the tides of time and keeps bursting with ingenuity and talent despite his age. This album proves beyond any doubt that Nahorny is still a musician who is able to innovate and surprise even the strictest connoisseurs. His music is as beautiful as always with melodies full of romanticism and typical Polish melancholy, which he masterly and continuously molds into new musical jewels. His piano playing is nothing short of sensational with an astonishing level of space and freedom, which often bring fond memories of the early days of his career when he flirted with free form.

All the compositions on this album are quite remarkable. Although they are stylistically diverse and encompass many different Jazz sub-genres, they are all marked by Nahorny´s personal touch, which has been his trademark since many years. The music is fresh and stimulating, fitting perfectly in the contemporary Polish Jazz scene, bursting with excitement and creativity.

The faithful rhythm section stands besides the Master at all times, providing the guidelines for his extended improvisations and ornamenting his performances with occasional short solos. Bogdanowicz and Biskupski are both veterans of the trade and they know exactly what is required of them under these circumstances: supporting the leader and not being obtrusive in any way. The many years that these musicians play together turns them into a well oiled unit, which is able to travel anywhere without a hitch.

Nahorny is a perfect representative of the Polish "old class" in the best positive meaning of that idiom. A Gentleman, an Artist and an Intellectual incorporated into one wonderful, warm person. Such class is very rare these days and therefore a figure like Nahorny is important as an example to be followed by the young generation, which definitely has the talent but sadly almost never such class. Thank you Maestro!
---