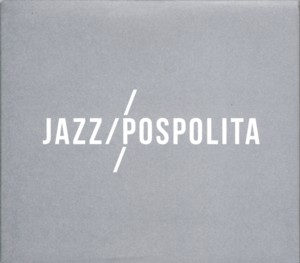 JAZZPOSPOLITA ~ REPOLISHED JAZZ
AMPERSAND 29 (Barcode: 5906485782422) ~ POLAND ~ Jazz-Rock Fusion
Recorded: 2009
- 2012
Released: 2012
---
This is the third album by Polish group Jazzpospolita

Find albums by this artist

, which consists of guitarist Michal Przerwa-Tetmajer

Find albums by this artist

, keyboardist Michal Zaleski

Find albums by this artist

, bassist Stefan Nowakowski

Find albums by this artist

and drummer Wojciech Oleksiak

Find albums by this artist

. In fact this album hardly counts as another stage in the group´s recorded legacy, as technically in includes no new contributions by the group per se. The first CD of this double CD release includes six remixes (one of the tunes is included in two different remix versions) of their material from the previous two albums, created by other artists, while the second CD is a reissue of their early EP from 2009, which was not formally released previously. As usual there are no composition credits anywhere on the album´s artwork, so the assumption is that the group members share the credits.

Considering that both CDs are about 25 minutes in duration, it seems that this album is one huge ego trip, which hardly justifies the lavish (and obviously expensive) packaging and the entire hullabaloo about it. The music could easily fit on one CD and a much modest packaging would have done the job. A numbered limited edition is a luxury artists have first to earn by producing some viable product.

It is nice to have the "legendary" EP finally released, but the group did move ahead since it was released and in retrospect it does not really hold the ground that well. Yes it was innovative at the time, but also very amateurish in many respects. Nevertheless, regardless of the many labels the "critics" stick to their music, Jazzpospolita was quite unique and interesting from the very start, which is already a great achievement.

The remixes, on the other hand, are a complete waste of time, completely unattached to the original music and make no sense whatsoever. Aesthetically there is nothing exciting about the way they are done, not is there any innovation in it. Personally I think that they do injustice to the original music, which is interesting enough and does not need to be transformed into other musical planes.

Overall life is, as experienced people know, a game of Hit or Miss, and this album is somewhat on the miss side, which of course is quite normal and happens to the best. The road to hell is paved with good intensions...
---