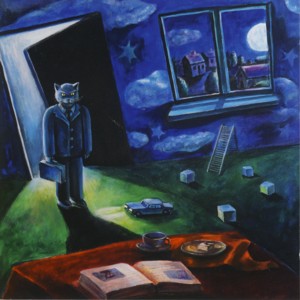 LIGHT COORPORATION ~ CHAPTER IV – BEFORE THE MURMUR OF SILENCE
RER LC04 ~ POLAND ~ Jazz-Rock Fusion
Recorded: 2014
Released: 2014
---
This is the fourth album by Polish Progressive Rock / Jazz-Rock Fusion ensemble Light Coorporation

Find albums by this artist

, led by guitarist / composer Mariusz Sobanski

Find albums by this artist

. The album was recorded by a septet, which also includes saxophonist Pawel Rogoza

Find albums by this artist

, trumpeter Kuba Jankowiak

Find albums by this artist

, pianist Witold Oleszak

Find albums by this artist

, bassists Piotr Oses

Find albums by this artist

(acoustic) and Krzysztof Waskiewicz

Find albums by this artist

(electric) and drummer Milosz Krauz

Find albums by this artist

. It includes eight original compositions, all by Sobanski, which are accompanied by eight poems also written by him, printed in the album´s booklet, which remain as unsung lyrics accompanying the music. The music was recorded live in the studio, but the sound quality and dynamics are excellent.

For the fourth time in a row Sobanski and his ensemble manage to surprise me completely, which happens extremely rarely with other artists. The chameleonic ability to constantly change the lineup and the music, but at the same time create some of the most fascinating music on the Polish scene, which is exploding with talent and extremely competitive, is truly astounding. This album is definitely the most jazzy and most open of the ensemble´s releases so far, and brings fond memories of some of the Frank Zappa

Find albums by this artist

ambitious projects, which incorporated Rock, Jazz and contemporary Classical idioms, but also the work of some early British Jazz-Rock pioneers like Rock Workshop

Find albums by this artist

. The "dirty" guitar tone and the superb brass solos, backed by a funky rhythm section are simply delightful and completely unique. There is no other group, neither in Poland nor anywhere else on this planet, which plays anything remotely similar.

There are also new elements, which appear here for the first time, such as the Improvised Music approach the ensemble clearly demonstrates, and of course the element of freedom in the improvisations, which are often quite bold and clearly reach beyond the boundaries of Prog, which initially defined the group´s orientation. Over time Light Coorporation managed to evade and steer clear of all attempts to get neatly categorized, which is one of their major fortes. The last track on the album, which lasts over seventeen minutes, is a modern symphonic poem, of rare beauty and intensity, which simply de facto defines the music.

Listening to this album is like a rollercoaster ride, which themes, rhythms, intensities, crescendos and silences chasing each other constantly. The music takes the listener by the throat and does not let go well until the last echoes of the music are all gone; a completely unique experience, which happens only once in a blue moon.

I have no idea why Light Coorporation gets such a limited feedback in Poland, but the fact that the prestigious British ReR label releases their album for the fourth consecutive time is a symbol of distinction and appreciation. Hopefully they will be able to get more recognition back at home, as they truly deserve. This is definitely one of the best and most interesting Polish albums of 2014, and another great accomplishment by Sobanski and his cohorts.
---