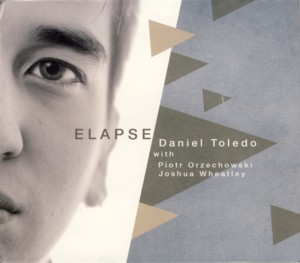 DANIEL TOLEDO ~ ELAPSE
NOT ON LABEL (Barcode: 889211081240) ~ ECUADOR ~ Jazz
Recorded: 2014
Released: 2014
---
This is the debut album by Ecuadorian bassist / composer Daniel Toledo

Find albums by this artist

, recorded in a classic piano trio setting with excellent Polish Jazz pianist Piotr Orzechowski

Find albums by this artist

and British drummer Joshua Wheatley

Find albums by this artist

. The album presents five original compositions by Toledo and one standard composed by Miles Davis

Find albums by this artist

.

Orzechowski is of course one of the top young Jazz pianist in his country and in the last few years his activities have been documented mainly in the role of a solo piano player, therefore this recording should be of great interest to all Polish Jazz fans.

Toledo emerges on this debut recording as an excellent bassist of a highly personal style, which is characterized by groovy pulsations, which are usually produced by electric bass guitar rather than by the upright bass, and a danceable attitude, which most probably has its roots in his South American roots. But he is definitely also a highly talented composer and his tunes serve as ideal vehicles for the trio to explore and develop the basic melody lines into lengthy improvisations.

Naturally the pianist draws most of the listener´s attention, as he is the main soloist here. Toledo made a wise choice combining forces with Orzechowski, as there are very few such versatile and skillful pianists as him. It´s a pleasure to hear Orzechowski keep the groove and funky feel of this album alive, even on the slow pieces, which display a more lyrical approach.

Wheatley fits the bill perfectly, supporting the bass with his steady rhythmic patterns, keeping time and at the same time allowing for a lot of rhythmic fluidity, which makes the music much more interesting. This approach is strongly felt on the trio´s interpretation of the Miles Davis composition, which is given a highly unusual treatment.

Overall this is definitely a superb debut effort, as well as one of the most personal / unique albums that I happened to listen to in 2014. Hopefully this trio will produce more of such gems in the future. I can´t wait to see where it will all lead to. Nice work Gentlemen!
---