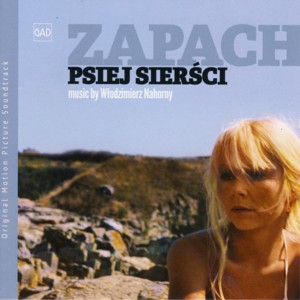 WLODZIMIERZ NAHORNY ~ ZAPACH PSIEJ SIERSCI
GAD 019 (Barcode: 5901549197242) ~ POLAND ~ Jazz
Recorded: 1980
Released: 2014
---
This album presents the music by Polish Jazz saxophonist / pianist / composer / arranger Wlodzimierz Nahorny

Find albums by this artist

, one of the Godfathers of modern Polish Jazz, which served as the soundtrack of the movie "Zapach Psiej Siersci" ("The Smell Of Dog´s Fur"), which was based on a novel by Polish writer Wojciech Zukrowski

Find albums by this artist

. The movie was directed by Jan Batory

Find albums by this artist

, who died in August 1981 shortly after the film was completed and before it was belatedly released for screening in 1982, due to the Martial Law imposed in Poland in December 1981.

The original soundtrack includes thirteen, mostly short pieces of music, except for two longer and extended themes. Additionally there are two source music pieces and seven bonus tracks, previously unheard. All the music was composed, arranged and orchestrated by Nahorny and was performed by the Polish Radio Orchestra

Find albums by this artist

, conducted by the composer, which included some of the best Polish Jazz players, but who remain unnamed. Nahorny most probably plays the keyboards, although that is again not specifically mentioned in the liner notes.

The music is all masterly composed and arranged, showing Nahorny´s versatility and sensitivity, which was always his trademark. On one hand Nahorny is able to write romantic and beautifully lyrical melodies and on the other his swinging pieces are always full of finesse and sparkling with incredible feel for the Jazz idiom. As a result the soundtrack fits ideally to the movie´s plot, which combines romance and thriller characteristics.

In contrast to most soundtrack albums, which usually have little to offer as a standalone products, this music holds its ground superbly as an interesting collection of excellently performed musical themes, even when separated from the movie. Additionally it also withstands the tides of time without loosing any of its validity, similarly to the best soundtracks of similar category, like the archetypal "Last Tango In Paris

Find albums with this title

" by Gato Barbieri

Find albums by this artist

.

Remastered from the original master tapes the album sounds spectacularly and is another great tribute to the legacy of Wlodzimierz Nahorny brought to us by GAD

Find albums on this label

Records, for which we are, as usual, grateful.
---