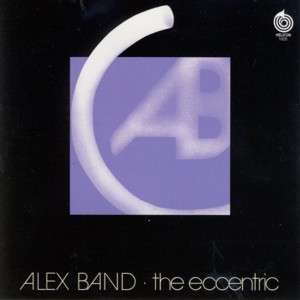 ALEX BAND ~ THE ECCENTRIC
GAD 015 (Barcode: 5901549197174) ~ POLAND ~ Jazz-Rock Fusion
Recorded: 1980
- 1981
Released: 2014
---
This is a reissue of the second album by the Polish Big Band ensemble Alex Band

Find albums by this artist

, which was one of very few bands active in Eastern Europe playing instrumental Brass Rock and mixing Jazz-Rock Fusion, Funk and Soul. The band was founded and led by Aleksander Maliszewski

Find albums by this artist

and on this album included a nine-piece brass section and a seven-piece rhythm section, with three keyboardists, i.e. a seventeen-piece (including the leader) band – definitely a unique lineup, especially so in Poland which at the time was still very much behind the Iron Curtain. The music was produced at two recording sessions, held six months apart, and released by the Polish Jazz Society´s record label Helicon

Find albums on this label

in late October 1981 just in time for the annual Jazz Jamboree Festival. Of course shortly thereafter the Martial Law was declared in Poland and all things cultural were washed down the drain into the Vistula River. The album included six original compositions, all by the band members, and for this reissue was expanded by three bonus tracks, all of which are studio outtakes from the album´s sessions.

The music is beautifully performed and recorded, with a very unique sound and ambience, which sets it apart from almost anything else recorded at the time in Eastern Europe. On this album the brass parts are more extensive than on the debut album and feature intricate arrangements, similar to the arrangements of modern American Big Bands active at the time. In retrospect this music still sounds fresh and vital, as it was at the time of the recording. Considering the very high level of the compositions and a marvelous execution, there is no way this music will be ever outdated.

Reissuing this jewel is another credit to the GAD

Find albums on this label

Records label, which time after time manages to uncover yet another glorious glimpse of the past that in most cases was completely forgotten till now. The music on this album is a first-class example of skillful arrangements and brilliant recording, which should be studied by today´s music students.

Of course this is also a historic document of utmost importance and an integral part of the long and winding road that Polish Jazz travelled on over the years. Keeping this music available should be supported by the Polish State, since it has a whole Ministry (of Culture and National Heritage) to do so, sadly very little is done on that level and it is, as always, up to private parties, like Michal Wilczynski

Find albums by this artist

, the man behind the GAD Records, to do the work of love which keeps Polish Culture alive and remembered. Thank you!
---