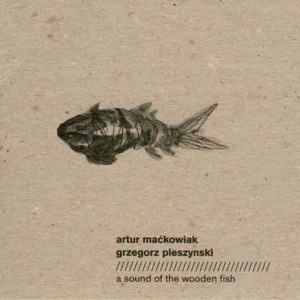 ARTUR MACKOWIAK / GRZEGORZ PLESZYNSKI ~ A SOUND OF THE WOODEN FISH
WET MUSIC ~ POLAND ~ Jazz
Recorded: 2014
Released: 2014
---
Polish Avant-Garde guitarist / composer Artur Mackowiak

Find albums by this artist

and multimedia artists Grzegorz Pleszynski

Find albums by this artist

are associated with the Bydgoszcz based Nowa Sztuka Wet Music Foundation (Mackowiak is one of the founders). The Foundation also operates the Wet Music

Find albums on this label

Records, which released several separate and collective recordings by these two artists earlier on. The music was recorded during one "live in the studio" session, with the participation of clarinetist Jerzy Mazzoll

Find albums by this artist

, who is featured only on the first part of the album, which comprises of three parts edited out of the entire session.

The music is a flow of electronic / ambient sounds, guitar phrases and chords, plastic tube trumpet blowing, human voice reverberations and other weird noises, with Mazzoll´s clarinet mixed in (sadly only in the first part), which normally wouldn´t make any sense whatsoever, but here somehow being able to overcome the chaos and anarchy and come together as a flow, which is best received subconsciously, simply by allowing oneself to get emerged in the music (sound?) without trying to analyze it.

The problem with this music, however, emerges in time as there is little if any development on the time scale and the repetition becomes trying in a long range. Therefore when Mazzoll is gone, the rest of the album offers more of the same (or rather less of the same), causing even a trained and patient listener like myself to wander what (or where) is the point in all this?

Avant-Garde has a tendency to create self-indulging works, which lose the audience at one point or another. It is extremely difficult to be outrageously innovative and communicative at the same time, and this album fills that purpose only in part. But it definitely has its moments and is worth investigating by the brave-hearted listeners.

That said, the will of the artists involved to pursue they own visions and dreams is extremely important and they deserve our respect for doing just that, taking the road less travelled.
---