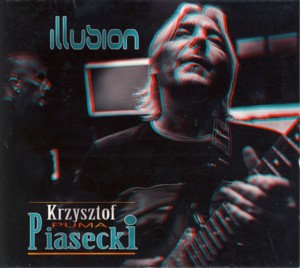 KRZYSZTOF PUMA PIASECKI ~ ILLUSION
NOT ON LABEL ~ POLAND ~ Jazz-Rock Fusion
Recorded: 2014
Released: 2014
---
This is the fifth album by veteran Polish guitarist / composer Krzysztof Puma Piasecki

Find albums by this artist

, recorded in a quartet format with keyboardist Wojciech Konikiewicz

Find albums by this artist

, bassist Adam Skrzypek

Find albums by this artist

and drummer Sebastian Skrzypek

Find albums by this artist

. Katarzyna Puma Piasecka

Find albums by this artist

adds some improvised vocals on one track. The album presents ten original compositions, six of which were composed by Piasecki and four were co-composed by Piasecki and Konikiewicz.

The material on this album presents two quite separate musical universes:

The music composed by Piasecki moves between Blues-Rock and Jazz-Rock Fusion and is based on strong melodic motifs, which serve as vehicles for extended improvisations by the guitar and the keyboards. Both the lyrical / melancholic ballads and the bluesy rockers are nicely and intelligently crafted. The entire sound of the ensemble is somewhat retro oriented and quite reminiscent of many late 1960s / early 1970s Blues based electric instrumental albums. Piasecki plays some great guitar licks, which still send a shiver down the listener´s spine, at least in the case of those of us who grew up when this type of music ruled the world. Konikiewicz plays a variety of keyboards, from acoustic piano, on the mellow acoustic tunes on which the acoustic guitar is also used, to mean synthesizers on the more rocky tunes. The rhythm section (with acoustic bass) is supportive and tight, exactly as needed, and produces an unobtrusive background, which carries the solos with grace.

In contrast, the music co-composed by Piasecki and Konikiewicz is less conventional, mostly ambient / improvised, performed by guitar and keyboards only, except for one track, which also uses vocals. This music is obviously more complex and adventurous, and as a result more difficult to be absorbed by an average listener. It is also much more interesting as far as more experienced and daring listeners are concerned.

In spite of the obvious differences, the two musical universes work well together, balancing the overall effect both aesthetically and emotionally, creating a multifaceted musical experience.

Although this album does not break any new ground musically, it contains excellent musical content, which is based on creative compositions and superb execution by high class instrumentalists, which is already more than most album released today. Listeners who still listen to Blues-Rock and Jazz-Rock Fusion have a great opportunity here to get an injection of fresh music, which is right up their alley. This is definitely an album worth investigating by all guitar fans and just anybody with any musical taste left in them. Well done!
---