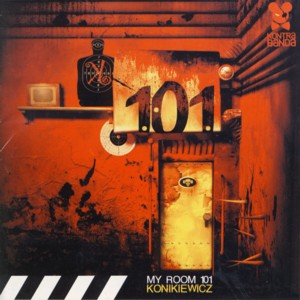 WOJCIECH KONIKIEWICZ ~ MY ROOM 101
KONTRA BANDA (Barcode: 5906713270011) ~ POLAND ~ Jazz-Rock Fusion
Recorded: 2006
Released: 2007
---
This is the debut album by Polish Jazz keyboardist / composer Wojciech Konikiewicz

Find albums by this artist

and his trio called Transgroove

Find albums by this artist

, which also includes bassist Marcin Lamch

Find albums by this artist

and drummer Przemyslaw Pacan

Find albums by this artist

. The album presents eight original compositions (and a bonus remix of the opening track), all by Konikiewicz.

The music is a keyboards-soaked Groove, Funk, Jazz-Rock Fusion, which has been the modus operandi of Konikiewicz since years. Layers upon layers of keyboards supported by a tight, funky rhythm section are a vehicle which carries a series of lengthy and well developed keyboard solos soaring above with passion. In contrast to most Groove recordings however, this music offers a very diverse melodic content, which Groove music seems to carry little about in most cases. The melancholic and lyrical acoustic track (where Konikiewicz plays acoustic piano) is one of the highlights of the album.

Konikiewicz is an absolute wizard with his synthesizers, able to create an infinite variety of sounds and colors, which is truly amazing. The music on this album sparkles with new ideas constantly, and there is not a dull moment for the entire duration of the album. Same goes for the many moods and atmospheric soundscapes, which seem to float in front of the listener like an imaginary movie.

The rhythm section is quite ideal for these proceedings, switching between straightforward timekeeping to delicate accompaniment on the more lyrical tunes. Lamch plays a superbly melodic acoustic bass solo on one track but is forceful and funky on other occasions. The same can be said about Pacan as well. The level of interplay and musical respect between the trio members is remarkable.

This album should reestablish the reputation of Konikiewicz as one of the best among the veteran Polish Jazz musicians. Hopefully he will be able to grace us with new recordings more often than earlier, as we are nor getting any younger. Lovers of Groove, Funk and just great keyboards oriented music should find this irresistible!
---