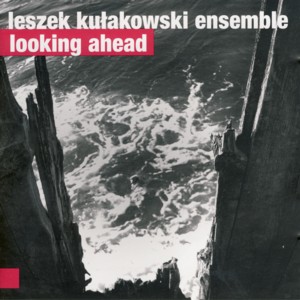 LESZEK KULAKOWSKI ~ LOOKING AHEAD
FOR TUNE 0043 (Barcode: 5902768701524) ~ POLAND ~ Jazz
Recorded: 2014
Released: 2014
---
In the last few years preceding the release of this album celebrated Polish Jazz pianist / composer Leszek Kulakowski

Find albums by this artist

concentrated on producing large orchestral works, which had either no direct connection to Jazz while pushing the boundaries of contemporary Classical idiom or floated somewhere within the Jazz-Classical Fusion, combining the two genres. Therefore this album comes as most welcome return to his Jazz roots. Recorded in a sextet setting with German trumpeter Christoph Titz

Find albums by this artist

, saxophonist Tomasz Grzegorski

Find albums by this artist

, cellist Krzysztof Lenczowski

Find albums by this artist

, bassist Piotr Kulakowski

Find albums by this artist

and drummer Tomasz Sowinski

Find albums by this artist

, the album presents nine original compositions, all by Leszek Kulakowski.

Kulakowski was always first and foremost a superb song-weaver, which is very evident on this album from start to finish. The various melodies are the deepest root of this music, which then gets expanded into the modern mainstream language, floating gently and elegantly from one tune to another, caressed and pampered on its way by the musicians, who add their individual touches. There is plenty of freedom and breathing space within this music to inspire a relaxed, moderate approach by the players, which proves to be ideal in this context. Of course certain traces of Classical compositional tricks and arrangement devices can be picked up by the experienced listeners. The overall atmosphere of this recording is reminiscent of the Scandinavian sound, more so than to the usual Polish Jazz recordings. A certain ECM-ism can also be detected.

The individual contributions by its participants are another forte of this album; everybody´s playing sounds truly inspired here. Titz is a wonderful trumpeter, who somehow never really gets the credit for his work that he usually deserves. His performances on this albums rank among his best work done on record, and although his phrasing derives from other great European trumpet Masters, his deep lyricism and feel are uniquely his own.

The most surprising and at the same time impressive soloist on this album is the young cellist Krzysztof Lenczowski, whose name pops up on the local scene with a feverish frequency and in some most unexpected places, in addition to his regular work with the Atom String Quartet

Find albums by this artist

. Kulakowski relays on his solo parts in several of the compositions presented here, and his decision to engage Lenczowski in this project pays off splendidly.

Grzegorski and Kulakowski also play some excellent solos in the various tunes, which perhaps are less spectacular but no less expressive and supportive in the common effort invested to create this music. The rhythm section is extremely supportive throughout and plays with precision and sensitivity, exactly when and as needed.

In many respects this is probably the most "conventional" album released by the For Tune

Find albums on this label

label so far and it´s good to see that the people running the label have no preconceptions overshadowing their judgment and recognize great music even if it is decently (but not to conservatively) dressed. It´s good to see Kulakowski playing and composing Jazz again, especially when the music is as good as what we can hear on this album. Chapeau bas indeed!
---