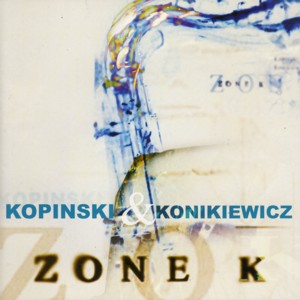 KOPINSKI / KONIKIEWICZ ~ ZONE K
SLAM 252 (Barcode: 5028386025221) ~ UK ~ Jazz
Recorded: 2002
Released: 2002
---
This is the only album by the trio co-led by British (of Polish origin) saxophonist / composer Jan Kopinski

Find albums by this artist

and Polish keyboardist / composer Wojciech Konikiewicz

Find albums by this artist

and also including the British drummer Steve Harris

Find albums by this artist

. The album, which was recorded live, comprises of six original compositions, three of which are credited to all trio members, two are composed by Konikiewicz and the remaining one is composed by Kopinski.

Kopinski and Harris (who unfortunately died in 2008), were of course members of the legendary British band Pinski Zoo, one of the leading ensembles on the British scene since the 1980s. Konikiewicz cooperated with the band and its members on several occasions and this recording is a document of one of such projects.

The music is dominated by Kopinski´s highly expressive saxophone playing, which is mostly free-form oriented. Konikiewicz, on the other hand, plays cautiously and mostly quite melodically, co-existing in a perfect balance with Kopinski´s explorations. Harris keeps the music moving forward, switching between straight forward rhythmic patterns and free-time passages. Overall the trio creates a fascinating amalgam of highly energetic contemporary Jazz, which keeps the listener on his toes for the entire duration.

There is also a much gentler, intimate side to the music, like for example the second track of the album, which is a beautiful ballad, full of typical Polish lyricism and melancholy. Konikiewicz switches between acoustic piano, which he uses to play the melodic intro and the wonderful solo, and the keyboards, which he uses to play the chord sequences and rhythmic layers behind the saxophone solo. Another of such pieces is the solo piano track, which is one of the highlights of the album.

There is an atmosphere of mutual respect and openness, which can be easily felt thorough the entire duration of the album, which makes an ensemble like this trio to become so convincing and effective. Although parts of the performances on this album are somewhat similar to the free-form funk, which is the weapon of choice of Pinski Zoo, the album is overall quite different and original in its own way.

In retrospect this album is definitely worthy to be revisited from time to time, as the fine music and superb playing on this album don´t get any less relevant in time, on the contrary they are still very much a most interesting listening experience today.
---