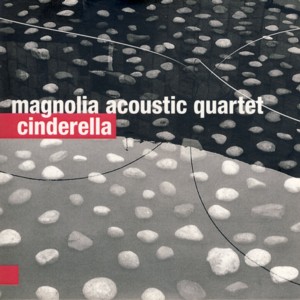 MAGNOLIA ACOUSTIC QUARTET ~ CINDERELLA
FOR TUNE 0035 (Barcode: 5902768701357) ~ POLAND ~ Jazz
Recorded: 2012
Released: 2014
---
This is the second album by Polish Jazz ensemble Magnolia Acoustic Quartet

Find albums by this artist

, which comprises of saxophonist Szymon Nidzworski

Find albums by this artist

, pianist Kuba Sokolowski

Find albums by this artist

and the brotherly rhythm section: bassist Mateusz Dobosz

Find albums by this artist

and drummer Patryk Dobosz

Find albums by this artist

. They perform six original compositions, all by Sokolowski (with one of the tunes inspired by a Yoko Ono

Find albums by this artist

piece).

This album faces a series of obstacles: the "second album" syndrome, the fact that the guest musicians on their debut album are not present here, the fact that the music is entirely "home made", and so on. The only thing in common is the fact that this album was also recorded live.

In comparison to its predecessor, musically this album is characterized by a much spacey, less melodic and freer approach, sometimes almost minimalistic. Most importantly the music is much more open and allows for delicate and intimate conversations between the quartet members. Although recorded just a short time apart, the quartet seems to be much mature, with the youthful energy and vivacity being replaced by elegant thoughtfulness. Of course this might result for some listeners / critics to evaluate this album as less impressive and immediate, but personally I happen to think that is simply different, but still very impressive.

I have already mentioned the Dobosz Brothers

Find albums by this artist

as potential candidates to the title of upcoming sibling rhythm section in Polish Jazz. Their performances here are no less convincing and they are definitely worth of close attention. Sokolowski plays a much more extensive role on this album that previously, which allows us to discover his subtle lyricism. Nidzworski is the true free spirit, pushing the boundaries of the quartet constantly towards terra incognita.

Overall this is another impressive achievement of a very promising young ensemble, which managed to overcome the a.m. obstacles with flying colors. Yes, this album is more challenging and less immediately likeable that the excellent debut, but patience has its rewards, which in this case are truly worth waiting for. Well done!
---