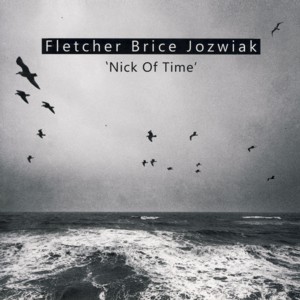 FLETCHER / BRICE / JOZWIAK ~ NICK OF TIME
SLAM 295 (Barcode: 5028386029526) ~ UK ~ Jazz
Recorded: 2013
Released: 2014
---
This is the debut album by British Jazz trio consisting of saxophonist / flautist Mike Fletcher

Find albums by this artist

, bassist Olie Brice

Find albums by this artist

and Polish (residing in UK) drummer Tymoteusz Jozwiak

Find albums by this artist

. The album presents six original pieces, all co-composed by the three trio members.

Jozwiak arrived in UK to study with the legendary British Jazz drummer Tony Levin

Find albums by this artist

, now sadly departed, and stayed on. He met Fletcher and Brice in 2013 and they struck an immediate rapport as musical partners, which led to this recording.

The music is a typical Free Jazz / Improvised Music setting, which presents three individual musicians trying to find a common ground and cooperate sonically in order to create an expression, which is a sum of their individual inputs. Judging by the result they definitely both enjoyed this meeting and managed to produce some excellent music together. Although obviously improvised, the music includes enough melodic contents to keep listeners from beyond the strict Avant-Garde scene receptive to this music. Fletcher´s playing is remarkably mellow and non aggressive and both Brice and Jozwiak engage with the front soloist constantly and yet manage to remain at least partly in the background, which saves the music from becoming cacophonous. Obviously Fletcher draws most of the listener´s attention, but his playing without the support of his two cohorts would have been most probably much less impressive.

Brice builds up a respected position among the Improvised Music community members in the last few years, appearing on several very strong recording dates, like the trio with Polish saxophonist / clarinetist Mikolaj Trzaska called "Inem Gortn", which should be most interesting to people listening to this album. He is surely a player worth watching in the years to come, following his impressive start-up achievements. Jozwiak is relatively anonymous as of now, but judging by his performances herein, we´ll definitely hear more about him in years to come.

Overall this is an interesting and aesthetically pleasing debut presenting ambitious music, which is definitely worth hearing.

The album was released on the small independent label called Slam

Find albums on this label

Records, which was founded and is operated by British baritone saxophonist George Haslam

Find albums by this artist

, and which in the last 25 years released some of the most fascinating Avant-Garde music recorded on the British Isles.
---