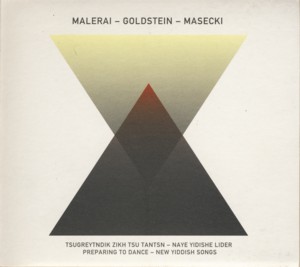 MALERAI / GOLDSTEIN / MASECKI ~ PREPARING TO DANCE – NEW YIDDISH SONGS
MULTIKULTI MPT 011 (Barcode: 5907796319567) ~ POLAND ~ World Music & Folklore
Recorded: 2013
Released: 2014
---
This is a live recording of a concert, which presents a cycle of nine songs composed by clarinetist / composer Michal Gorczynski

Find albums by this artist

with lyrics in Yiddish by the American poet Yermiyahu Ahron Taub

Find albums by this artist

. The cycle is performed by the Malerai

Find albums by this artist

trio, which comprises of Gorczynski, violinist Dagna Sadkowska

Find albums by this artist

and cellist Mikolaj Palosz

Find albums by this artist

, vocalist Hanna Goldstein

Find albums by this artist

and the enfant terrible of the Polish Avant-Garde Jazz scene, pianist Marcin Masecki

Find albums by this artist

. Gorczynski is known to Polish Jazz followers as the member of the clarinet quartet Ircha

Find albums by this artist

led by Mikolaj Trzaska

Find albums by this artist

and also as a member of the Pole

Find albums by this artist

trio. He cooperated with Masecki as a member of his Profesjonalizm

Find albums by this artist

ensemble. The concert was recorded in 2013 during the 4th edition of the New Jewish Music Festival in Warsaw.

This album is a very important statement of several realities concerning contemporary Jewish Culture. Firstly it proves that the Yiddish language is alive and kicking, not only as the lingua franca of Ashkenazi orthodox Jewish communities in Israel and the USA, but also as a form of expression of contemporary Jewish Culture, including poetry and literary prose, which are being created as we speak; this contrary to the popular opinion that the Yiddish language is practically dead and represents a wonderful heritage, which sadly is buried in the past. Secondly it once again emphasizes the incredible rebirth / resurgence / renaissance of the Jewish culture in Poland, especially in the Avant-Garde cycles of the young Polish Jazz community.

To put things straight this is definitely not a Jazz album or Jazz music per se; the best form of describing it would be drawing a parallel to the glorious days of German cabaret of the decadent era created almost a century ago and best portrayed by the music of Kurt Weil

Find albums by this artist

. Gorczynski, perhaps subconsciously, uses similar musical / theatrical devices as classic cabaret, but brings them up to date by adding dissonance and free improvised instrumental passages as part of the arrangements of the songs. Masecki, who is the most Avant-Garde prone ingredient of this ensemble, plays the "grown up in charge" part, elegantly accompanying the vocals and displaying maximal restrain almost at all times. Goldstein´s vocals fit the musical setting well and she´s not afraid to "let go" and explore some vocal acrobatics, whenever appropriate. If only her Yiddish accent was a bit more authentic… Therefore, although not really Jazz, this music does have a lot of free spirited expressionism and improvisational elements in it, to become aesthetically related to Jazz.

Although Taub comes from a strict orthodox Jewish background, the subject matter of his poetry is completely secular and universal, often full of psychedelic imagery and free associative connections. Gorczynski´s music is a superb vehicle for these poems to cross over into a new dimension, mixing music and words to create a new identity. Gorczynski and his team created an excellent piece of contemporary Art, which adapted heritage, tradition and contemporary artistic resources, amalgamating them into a class of its own.

Overall, although this album does not make any revolutionary discoveries, it has enough merit to be called a bold, important step forward towards creating contemporary Jewish Culture as much as enriching the existing heritage. In a reality, in which most music is completely devoid of any ambition or artistic merit, this is a wonderful example of creativity and intellectually challenging spirit. Bravo!
---