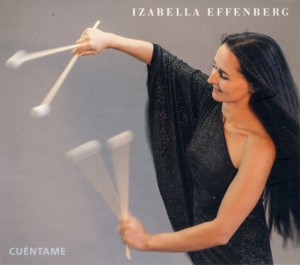 IZABELLA EFFENBERG ~ CUENTAME
UNIT 4559 (Barcode: 7640114795596) ~ POLAND ~ Jazz
Recorded: 2013
Released: 2014
---
This is the debut album by Polish vibraphonist / composer Izabella Effenberg

Find albums by this artist

, currently residing in Germany, recorded with an ensemble which includes Israeli (also resident in Germany) vocalist Efrat Alony

Find albums by this artist

and German players: harpist Maja Taube

Find albums by this artist

, multi-instrumentalist Florian Trubsbach

Find albums by this artist

, baritone saxophonist Norbert Emminger

Find albums by this artist

, bassist Markus Schieferdecker

Find albums by this artist

and drummer Jens Duppe

Find albums by this artist

. The album consists of nine compositions, four of which are her originals, one by Emminger and the remaining ones by German composers like Peter Fulda

Find albums by this artist

and others.

Effenberg, who is the only Polish female vibraphonist, presents here a suite-like cycle of complex compositions, which differ from each other and yet somehow make sense as a continuous whole. Although inevitably Jazz, the music carries a strong contemporary Classical influence and could be easily classified as Chamber Jazz, if such labeling makes any sense at all. It is unquestionably fundamentally European, with the strong aesthetic / sonoric elements of European Jazz overwhelmingly outweighing the American Jazz tradition. There are some World Music elements present as well, albeit mostly quite concealed. The overall atmosphere is fairly unique and wonderfully weird.

Of course all the musicians involved are hardcore professionals, so one should expect the perfect execution present herein, but at times the proceedings seem a bit over calculated, screaming for some more spontaneity. But of course these are personal musings and should not influence the overall excellence of the entire work. Effenberg plays some great vibes (pun intended) and I´d love to hear her live, which I hope will happen one day.

This is undoubtedly a very ambitious and bold debut, which offers no easy outings and no compromises, neither stylistically not intellectually. This music requires attentive listening and eschews unnecessary pleasantries, as all ambitious music should. Hopefully it will find its admirers among the listeners and serve as an important step in building Effenberg´s future career. Well done Milady!
---