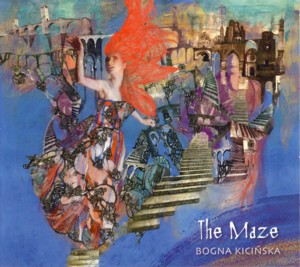 BOGNA KICINSKA ~ THE MAZE
SURCA 002 (Barcode: 5907796319574) ~ POLAND ~ Jazz
Recorded: 2013
Released: 2014
---
This is the debut album by the Polish (resident in NY) Jazz vocalist Bogna Kicinska

Find albums by this artist

, recorded with a core quartet comprised of violinist Mateusz Smoczynski

Find albums by this artist

, pianist Kuba Cichocki

Find albums by this artist

, bassist Edward Perez

Find albums by this artist

and drummer Colin Stranahan

Find albums by this artist

. Electric bass player John Benitez

Find albums by this artist

plays on two tracks replacing the regular bassist, and a string quartet is utilized on two other tracks. The album includes nine tracks, five of which are originals by Kicinska (only one of those includes lyrics) and the remaining four are standards.

I approach albums by Polish vocalists with an almost pathological fear of the dreaded "English vocals sung by non-native English speakers" syndrome, which for many years time after time consistently proves to be a failure, sometimes of catastrophic proportions. The exceptions are few and far between, and luckily this album manages to slip into the class of exceptions, which does not mean that the English vocals work – they simply don´t. But there is enough merit on this album to make it interesting and the English vocals are after all the less significant ingredient of the entire package.

What does work wonderfully is the fact that Kicinska uses her vocals as an instrument, singing scat and vocalese, which combined with the excellent instrumental backing, works out wonders. She emerges as a very interesting composer and arranger, with her original compositions being the highlight of this album musically and her arrangements of the standards being very original, non-trivial and intricate. She combines wonderfully her Polish roots by using folkloristic themes and mixing them with other elements, most importantly Jazz improvisation. With the violin behind her, these originals bring fond recollections of the work done by Michal Urbaniak

Find albums by this artist

and Urszula Dudziak

Find albums by this artist

four decades earlier. Considering the fact that four of her five original compositions do not involve lyrics at all and concentrate on vocal explorations is very promising and hopefully shows the way towards the future.

The two Polish players on this album: Smoczynski, who is a violin virtuoso and swings like hell and Cichocki, who is a delicate poetic player yet also swings magnificently, both support the vocalist intelligently and elegantly. The rhythm section is accommodating and handles the sometimes complex tempi changes well, but remains in the background without leaving a very strong impression.

Overall this is a very promising debut, full of potential and holding many promising developments in the future. Just skip the lyrics (and the standards) next time and you will get far girl. Thanks for the thrills and keep doing your thing!
---