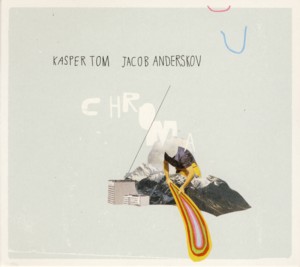 KASPER TOM / JACOB ANDERSKOV ~ CHROMA
BAREFOOT 037 (Barcode: 5707471036099) ~ DENMARK ~ Jazz
Recorded: 2014
Released: 2014
---
This is an album by a duo of Danish Jazz musicians: drummer / composer Kasper Tom Christiansen

Find albums by this artist

and pianist / composer Jacob Anderskov

Find albums by this artist

, both representatives of the new wave of Danish Jazz music, which has been experiencing a significant resurgence since the turn of the Millennium. Anderskov, who is commonly recognized as one of the leaders of the local Danish scene, is a prolific performer, composer and recording artists with a sizeable legacy of over twenty releases as a leader since his debut in 2001 and many more as a sideman. He won the Danish Jazz Composer of the Year award in 2013 and is definitely an Artist worth following. Christiansen, who started to record in 2007, participated in more than ten releases since, with a steady progress towards excellence. This album includes eight original compositions, seven of which are by Christiansen, and the opening track is a piece credited to both participants.

The fact that Anderskov takes part in this album almost exclusively as a pianist is a tremendous vote of confidence in Christiansen´s talent as a composer. But more importantly, for anybody listening to this music, it becomes pretty obvious that Christiansen is a brilliant music weaver. His intrinsic melancholy, lyricism and feel for freedom of expression are his pillars, and then it´s up to the performers to translate these principles into actual soundscapes.

Anderskov was an ideal choice to turn this music into what it finally becomes: a dreamy soundtrack of an imaginary voyage through space and time, delicate and fragile, illusive and mystical. The gentle piano strokes and the muffled drum parts work hand in hand towards a common goal of caressing the listener´s soul via his ears. This music can be absorbed on many different levels, from highly cerebral to completely emotional, all with an equally satisfactory aesthetic effect.

This is a very intimate piece of music, humble in a way, somewhat minimalistic, and yet it contains more music and artistic expression that most other, much more flamboyant recordings. For me this is one of the most profound pieces of music I´ve had the pleasure to hear this year. As usual in such occasions, I simply raise my imaginary hat, thanking the Artists for sharing.
---