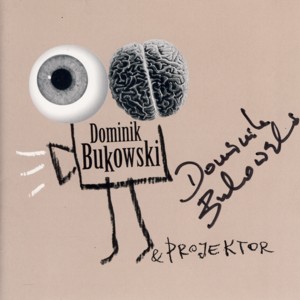 DOMINIK BUKOWSKI ~ DOMINIK BUKOWSKI & PROJEKTOR
ALLEGRO 010 ~ POLAND ~ Jazz
Recorded: 2004
Released: 2005
---
This is the debut album by Polish Jazz vibraphonist / composer Dominik Bukowski

Find albums by this artist

, recorded with an excellent ensemble which comprises of saxophonists Wojciech Staroniewicz

Find albums by this artist

and Lukasz Poprawski

Find albums by this artist

, bassist Piotr Lemanczyk

Find albums by this artist

, drummer Hubert Zemler

Find albums by this artist

and Pawel Grabowski

Find albums by this artist

who employs live electronics. The album presents nine original compositions, all by Bukowski except for one track being co-credited to Grabowski, which is a soundtrack to a short film, which is also included as part of this enhanced CD.

The music is absolutely stunning, typical melancholic Polish Jazz at its best, with beautifully woven melodies, which are then developed by the ensemble to form serene soundscapes, many of which could serve as soundtracks of imaginary movies, not only the last track on the album, which is a soundtrack in reality. Bukowski emerges from the very first moments of this album as an important composer, which of course would be reconfirmed time after time in the years that followed this recording.

The personal contributions by the musicians involved in making this album are all first class. Bukowski deliberately takes a step back and solos rather sparingly, but when he takes the lead his performance is mesmerizing. Most of the solos are performed by Staroniewicz, who is definitely one of the best players in the country with an incredible melodic lyrical tone and virtuosic improvisational qualities. Lemanczyk, again one of the finest players in Poland, does his bass magic like a dream. Zemler plays carefully and intelligently in the background in order to keep the delicate balance this music so much depends on intact. The electronic / sampled ornamentations are all non-obtrusive and well suited to the atmosphere of the music, fitting very well into the overall ambience.

Overall this is a superb debut and a fantastic Polish Jazz album, which is mostly overlooked in retrospect, definitely deserving an honorable place on the short list of best albums recorded during the first decade of the 21st Century. Those fans of Polish Jazz that missed getting it at the time: it´s never too late for great music!
---