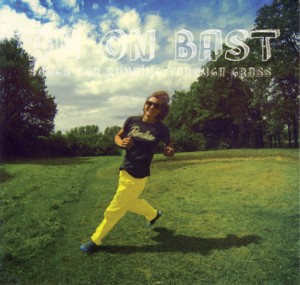 AN ON BAST ~ SONGS FOR RUNNING THROUGH GRASS
GHOST KITCHEN 01 ~ POLAND ~ Electronic & Ambient
Recorded: 2014
Released: 2014
---
Polish Jazz enthusiasts are familiar with electronic producer and live performer An On Bast

Find albums by this artist

(real name Anna Suda

Find albums by this artist

) thanks to a series of wonderful recordings she made with trumpeter Maciej Fortuna

Find albums by this artist

, where her extraordinary creations met the Jazz idiom. But before recording with Fortuna she was already a world famous artists, performer and recording artist of her own accord with an ongoing career since 2006. An On Bast recorded this solo album after the recordings with Fortuna and its release also marks a debut on her own record label called Ghost Kitchen. It includes eleven relatively short tracks, all composed by her.

Contemporary electronic / ambient music is rarely interesting to me, as it is based mostly on schematic, very predictable sound formulas and rhythmic patterns. The great Godfathers of electronic music, like Karlheinz Stockhausen

Find albums by this artist

, Edgar Varese

Find albums by this artist

and many others, started the electronic explorations to expand the borders of sound as known to the human ear, but by the end of the 20th Century it was completely bastardized, commercialized and vandalized by the Pop (non)Culture of the time, becoming more of a noise pollution than music in any respect.

Of course there are always exceptions and An On Bast is for me one of them. Her electronic / ambient sounds are aesthetically pleasing; non aggressive and diverse enough to keep the attention of the listener rather than hypnotize him by a drone like repetitious mechanical sound poison. There is enough melodic element, development and variety to keep things interesting for the duration of the album, and listening to it becomes quite a fun after a while, especially in a relaxed, hassle-free environment, like driving or late night listening.

Although I hope An On Bast will continue her involvement with the Jazz world in the future, her electronic works are now another avenue of soundscapes I find worth following. Well done!
---