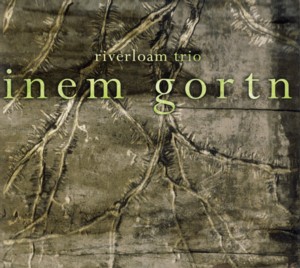 RIVERLOAM TRIO ~ INEM GORTN
FMR 374 (Barcode: 700175749833) ~ POLAND ~ Jazz
Recorded: 2012
Released: 2014
---
This is the second album by the Riverloam Trio

Find albums by this artist

, which consists of Polish Improvised Music legend, saxophonist / clarinetists Mikolaj Trzaska

Find albums by this artist

and two British musicians from the same sphere: young bassist Olie Brice

Find albums by this artist

and drummer Mark Sanders

Find albums by this artist

. The trio´s live debut released a couple of years earlier (as a double LP – no CD release so far) was very warmly received at the time and this studio effort should solidify their reputation. The album consists of seven original compositions, all credited to the trio members.

With dozens of albums behind him, it is increasingly difficult to describe each specific new project involving Trzaska and remain open-minded and focused enough to pinpoint the often subtle differences between the various parts of such an immense body of work. However, from the very first notes on this album it becomes perfectly clear that this is one of the most expressive and emotional settings that Trzaska is involved with lately. His playing and improvising is simply overwhelming and it is quite obvious that this happens due to the superb rapport between him and the rhythm section, especially so with Brice, whose arco work is simply stunning (nothing wrong with his pizzicato of course) and their duets are the absolute highlights of this album.

Trzaska switches between the saxophone, clarinet and bass clarinet, as he often does these days, to achieve a different mood and power of expression. The rhythm section follows his lead amicably, adjusting the volume and intensity of their performances to the lead instrument, which is a sign of mutual respect and solidarity, which are unfortunately often forgotten in the Improvised Music environment. Sanders, who is a seasoned improviser, always finds just the proper percussive ambience to support Trzaska and Brice and elegantly takes a step back when they get involved in intimate duos.

Personally I think this is an ideal Improvised Music album, which keeps the anarchy well in check, shows the individual expressions of the musicians involved and glues them together to create a whole greater than the sum of its ingredients. Emotionally and artistically this is definitely one of the best albums Trzaska recorded in his long and impressive career.

This music is also beautifully recorded, with a perfect balance between the instruments and a wonderful room ambience, which enables the listener to hear every little detail of the entire sonic contents. Improvised Music recording sadly often suffer from poor recording quality and this one is an example of how things should be done and how important it is to be able to hear absolutely everything.

All that remains is to thank these wonderful Artists for their gift to us, mere mortals, who have the privilege to enjoy this music. Well done indeed, gentlemen!
---