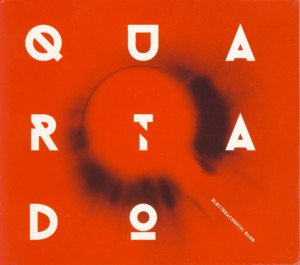 QUARTADO ~ QUARTADO
NOT ON LABEL ~ POLAND ~ Jazz-Rock Fusion
Recorded: 2014
Released: 2014
---
This is the debut album by young Polish Jazz ensemble Quartado

Find albums by this artist

, which consists of keyboardist Jan Rejnowicz

Find albums by this artist

, guitarist Marcin Wadolowski

Find albums by this artist

, bassist Karol Kozlowski

Find albums by this artist

and drummer Tomasz Losowski

Find albums by this artist

. The album presents ten original compositions, eight of which are by Rejnowicz and one each are by Wadolowski and Losowski.

The music can be generally classified as Jazz-Rock Fusion, but it certainly has quite an unusual approach, mixing the standard Fusion tricks of the trade with Latin rhythms, Jazzy acoustic piano passages and many other devices, which sets the quartet apart from most of their competition. The level of the compositions is quite surprising, with solid melodic and harmonic ideas rather than the usual Fusion chord progressions which only purpose is to serve as a basis for endless doodling.

The personal contributions are all impressive, with the rhythm section driving the music forcefully forward. The bass has a very thick sound and the drums are very busy, and although together they are well synchronized, personally I think that the rhythm section is too dominant and comes way to forward in the mix, which causes a listening fatigue after about half the album, actually hurting the listeners ears. The overall sound is not great either, sounding muddy and condensed as if recorded in a tiny box, which is a great pity as this album could have sounded infinitely better.

Rejnowicz, who wrote most of the music, comes up as a gifted composer, but his playing is not sensational and fails to make a unique personal statement, probably due to the fact that he is still very new at it. However, Wadolowski, who has been very busy in the last few years and participated in quite a few recordings, is the absolute star of this album, playing his heart out and sounding really good from start to finish. His solos are inventive and well developed, obviously making hordes of young guitarist to cringe with envy. It is truly satisfying to follow a musicians for a period of time and see (or rather hear) his progress and development.

Overall quite a nice debut with many fine moments and a lot of potential, just take it a bit easy next time around and channel the testosterone elsewhere.
---