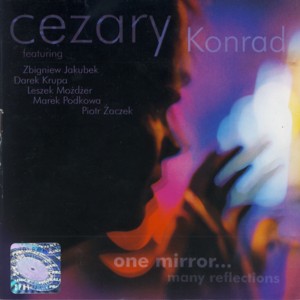 CEZARY KONRAD ~ ONE MIRROR… MANY REFLECTIONS
SELLES 0182 (Barcode: 5908260401825) ~ POLAND ~ Jazz-Rock Fusion
Recorded: 1999
Released: 2000
---
This is the debut album by Polish Jazz drummer / composer Cezary Konrad

Find albums by this artist

, one of Poland´s top drummers since many years, recorded with a core trio consisting of himself, bassist Piotr Zaczek

Find albums by this artist

and guitarist Darek Krupa

Find albums by this artist

, which is extended by additional players up to a quintet on some tracks with the addition of saxophonist Marek Podkowa

Find albums by this artist

and two keyboardists: Zbigniew Jakubek

Find albums by this artist

and Leszek Mozdzer

Find albums by this artist

. The album includes nine original compositions, all by Konrad.

Most of the music on this album is closely associated with Jazz-Rock Fusion, obviously influenced by the work of Allan Holdsworth

Find albums by this artist

and his groups. The electric fretless bass and synthesizers and of course the sound of the guitar imitate almost exactly the sound of European Fusion popular during the 1990s. The compositions are all quite interesting, with nice melodic themes and interesting harmonic approach, but overall the music is not remarkable enough to leave a deep impression, certainly not leaving a lasting impression.

The personal contributions are all quite excellent, with all the participants obviously being highly skilled musicians. There are some impressive solos and the overall level of playing is certainly satisfactory. Surprisingly the highlight of the album is the acoustic piano performance by Mozdzer on the only track, which is actually not a Fusion piece.

In retrospect, the album definitely sounded better at the time of its recording than now and does not withstand the tides of time well. This is unfortunately the fate of most Fusion albums, which proved to be mostly repetitive and derivative, with a very few exceptions.
---