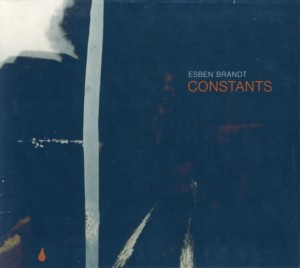 ESBEN BRANDT ~ CONSTANTS
GATEWAY 02 (Barcode: 5707471035689) ~ DENMARK ~ Jazz
Recorded: 2014
Released: 2014
---
This is the second album by the young Danish Jazz guitarist / composer Esben Brandt

Find albums by this artist

, recorded in a quartet setting with Polish (resident in Denmark) trumpeter Tomasz Dabrowski

Find albums by this artist

, bassist Anders Christensen

Find albums by this artist

and drummer RJ Miller

Find albums by this artist

. The album features eight original compositions, all by Brandt.

The music is very open-minded mixture of European lyricism and Scandinavian melancholy, with a set of slowly developing melodic themes, which are vehicles for the quartet members to stretch out and improvise quite freely. Obviously Brandt and Dabrowski are featured as the main soloist, often playing side by side soloing simultaneously or accompany each other while one of them takes the lead. They are very compatible as musical partners and there is an obvious interaction happening between them at all times, which is one of the many highlights of this album. The rhythm section serves as a perfect vehicle for the quartet, keeping the music together and moving it forward, especially during the unhurried passages, yet staying respectfully in the background.

Although Brandt is wonderful player, it is Dabrowski who performs most of the magical parts on this album, which is hardly surprising considering his record during the last few years. His unique tone and characteristic phrasing are by now shaping as his personal, easily recognizable trademark, which for a musician of his age is truly remarkable. But the album is a wonderful group effort and the teamwork present is my all means remarkable.

Overall this is a superb example of modern European Jazz, which combines tradition with freedom and sophistication, pushing the boundaries of what we recognize as Jazz music both in composition and performance. As usual the young age of the people involved is symbolic of the fact that the music´s future is passed from generation to generation, regardless of the cruel reality and the world´s indifference. A truly commendable job, worth of praise and admiration!
---