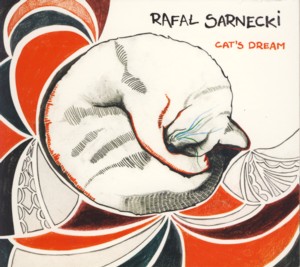 RAFAL SARNECKI ~ CAT`S DREAM
BJU 045 (Barcode: 5908254159367) ~ POLAND ~ Jazz
Recorded: 2013
Released: 2014
---
This is the third album by the Polish Jazz guitarist / composer Rafal Sarnecki

Find albums by this artist

, who currently lives in NY. It presents eight original compositions, all by Sarnecki, which are performed by a sextet led by him, which also includes vocalist Bogna Kicinska

Find albums by this artist

, saxophonist Lucas Pino

Find albums by this artist

, pianist Glenn Zaleski

Find albums by this artist

, bassist Rick Rosato

Find albums by this artist

and drummer Colin Stranahan

Find albums by this artist

. One of the tunes uses lyrics by the great Chilean poet Pablo Neruda

Find albums by this artist

.

The music is a beautiful blend of many influences, based on the Jazz tradition but incorporating various other influences, like World Music, Fusion, Progressive Rock and Contemporary Classical, creating a unique universe of sound. The compositions are very diverse and present a wide vista of Sarnecki´s inventions; also distinctly melodic, they are quite complex with frequent tempi changes and intertwined melodic themes, which keep developing, often unexpectedly. In fact this music requires quite an attentive listening in order to be properly comprehended. It is truly refreshing to hear such ambitious music being made today.

The individual performances are all excellent and the album is above all an ensemble effort. But the talents of all the players are plainly exposed. Kicinska sings wordless vocalese (except for one case), using her voice as an instrument, which blends well with other instruments in the ensemble. Her presence is a stimulating factor, which adds to the overall success of this album. Pino plays some excellent solos throughout, which are fluent and expressive. Zaleski and the rhythm section keep the music moving ahead smoothly and elegantly, exactly as needed, obviously keeping their ears open and handling the tricky parts with ease and elegance. I´d love to hear them in a piano trio format. And of course Sarnecki and his guitar are, as always, the cherry on the cake. I´ve always liked his tone and phrasing, but his playing on this album is definitely stronger than ever.

Overall this is an ambitious effort, splendidly performed and beautifully recorded, adding up to an album of true artistic value, so rare these days. Sarnecki shows a distinctive process of growing up and developing his talents, one of which is surrounding himself with great musicians. This is definitely one of the most interesting recordings released so far in 2014 and I hope it will be received open-mindedly both by the audiences and the critics, which for projects like these is, sadly, far from being self-understandable. This is the kind of aesthetic approach I´d personally love to hear in many other recordings, especially those originating in the US, but in the case of Sarnecki he simply managed to maintain his European qualities unblemished. Brilliant stuff!
---