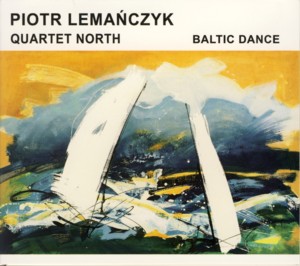 PIOTR LEMANCZYK / QUARTET NORTH ~ BALTIC DANCE
SOLITON 387 (Barcode: 5901571093871) ~ POLAND ~ Jazz
Recorded: 2014
Released: 2014
---
Polish bassist / composer Piotr Lemanczyk

Find albums by this artist

keeps producing beautiful music with a staggering regularity, albeit constantly changing the lineups, the musicians and the instrumentation. This project finds him in a pianoless quartet with trumpeter Emil Miszk

Find albums by this artist

, saxophonist Szymon Lukowski

Find albums by this artist

and drummer Slawomir Koryzno

Find albums by this artist

. The album presents nine original compositions, all by Lemanczyk, three of which feature a string quartet accompanying the Jazz quartet. As the album´s title suggests, Lukowski is a proud representative of the Polish Jazz scene active on the shore of the Baltic Sea, mostly around Gdansk, as are all three of his partners in this project. Over the years the Baltic scene produced some of the finest Polish Jazz achievements.

In my review of the previous album by Lemanczyk, called "Amhran

Find albums with this title

", I mentioned that the music sounded American, i.e. different from the typical Polish Jazz, which has rather strong identity easily recognizable by a trained ear. This time the music again sounds atypical as far as Polish Jazz is concerned, and sounds pretty much like Scandinavian Jazz, which after all is created around the Baltic Sea as well. Of course these regional similarities are not meant to suggest a lack of originality, au contraire, Lemanczyk creates completely original music, and it is only the overall atmosphere that suggests a mindset typical to Jazz produced outside of Poland.

All these superb compositions are a wonderful vehicle for the players to show their abilities. Szymon Lukowski is the biggest surprise here, as his playing on other Polish Jazz recordings, including his debut eponymous album, was rather restrained and unremarkable, and here he sounds like a complete different person, with highly expressive and emotional solos and a beautiful affinity towards the music, including his excellent bass clarinet parts. Emil Miszk justified the position as one of the upcoming Polish Jazz trumpeters (although the competition in that department is unbelievably tough) and blows some truly impressive licks. Slawomir Koryzno stays mostly in the background, but keeps the music flowing steadily, with grace, with an occasional solo spot, which he manages quite well. Of course Lemanczyk is a power of Nature and his virtuosi bass lines are not only the backbone of this music but also its soul and intrinsic power.

This is modern Jazz at its best, with great tunes wonderfully performed by gifted musicians, who have no reason to feel any less worthy than their counterparts anywhere else in the world. This is elegant, intelligent music, which flows slowly, but reaches the deepest corners of the listener´s soul. Itís a privilege to be able to enjoy this music, which deserves to be discovered and championed as much as any true piece of Art. Well done indeed!
---