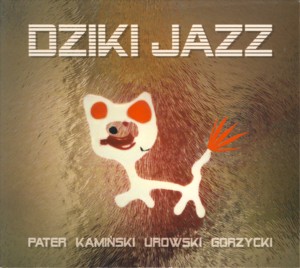 PATER / KAMINSKI / UROWSKI / GORZYCKI ~ DZIKI JAZZ
MW 002 (Barcode: 5905912556926) ~ POLAND ~ Jazz
Recorded: 2009
Released: 2009
---
This is an excellent album by a quartet of young generation Polish Jazz musicians: guitarist Kamil Pater

Find albums by this artist

, saxophonist Aleksander Kaminski

Find albums by this artist

, bassist Pawel Urowski

Find albums by this artist

and drummer Rafal Gorzycki

Find albums by this artist

. They have all appeared in different local ensembles since the turn of the Century and have an established reputation as some of the biggest hopes of the future Polish Jazz scene. The album presents eight original compositions, with two each by Pater, Urowski and Pater / Kaminski, one by Gorzycki and the remaining one by all four musicians.

The music is an interesting blend of modern Jazz and some Blues, Rock, Electronics and Contemporary Classical influences. The overall atmosphere is contemplative and relaxed and the up-tempo passages are usually brief and serve as a contrast to the low-key attitude, which dominates this recording. There are clear melodic themes stated in each of the compositions, but there is also a lot of freedom and individual expression herein. The two main soloists (i.e. guitar and saxophone) play some beautiful duets and the level of interplay between the four musicians is simply phenomenal.

It is great to see musicians finding ne ways to express their talents and innovate, rather than follow the beaten path of mainstream Jazz, which has been over-exploited for decades. This music is original, fresh, fascinating and stylistically diverse to keep the listeners on their toes time and time again. Three of the musicians playing here recorded another splendid album entitles "A-Kineton

Find albums with this title

" with saxophonist Irek Wojtczak

Find albums by this artist

replacing Kaminski, which is also a "must have" for all Polish Jazz connoisseurs.
---