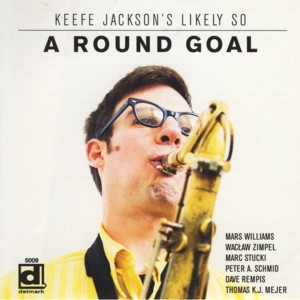 KEEFE JACKSON / LIKELY SO ~ A ROUND GOAL
DELMARK 5009 (Barcode: 038153500924) ~ USA ~ Jazz
Recorded: 2013
Released: 2013
---
Chicago´s iconic experimental Jazz scene is one of the last frontiers of challenging and adventurous music happening in the US in the 21st Century. With dozens of active local musicians, festivals and venues the Improvised Music / Free Jazz / Avant-Garde are still thriving there and draw many other musicians from around the world, who are attracted to it like moths to light. It is therefore hardly surprising that the Polish Avant-Garde scene, which is the strongest and most versatile in Europe at the moment, also developed many different connections with the Chicago scene, with visiting musicians performing and recording in both countries and records being released, documenting such cooperation, in US and in Poland.

Chicago´s veteran record label, Delmark

Find albums on this label

Records, which consistently records music made by the local scene, already documented such US / Polish projects several times in the past and this album is another example of such collaboration. It presents an all-reeds septet led by saxophonist / composer Keefe Jackson

Find albums by this artist

, called A Round Goal

Find albums by this artist

, which features as one of its members the Polish clarinetist Waclaw Zimpel

Find albums by this artist

and as a result the ensemble consists of three Americans, a Pole and three Swiss. The music, all composed by Jackson, was recorded live in Switzerland. Although Jackson knew the Swiss players earlier on, he never met Zimpel in person and knew his playing only from his albums, which was apparently impressive enough to get invited to join the ensemble.

The music, although free spirited and unrestricted stylistically, is quite structured most of the time, with clear melody lines and rhythmic patterns easily traceable along the way. Of course there is plenty of space and improvised interplay as well as extended solo spots, but this is very much an ensemble effort, rather that a collection of individual contributions. Of course the level of performances by all the musicians involved is nothing short of spectacular all the way through.

It is great to see the American Avant-Garde still being able to re-invent itself, albeit with considerable help from the Europeans, and take the music forward again. This music is intellectually challenging and aesthetically pleasing at the same time, which is already a major success. For connoisseurs of large all-reeds ensembles, this is an absolute must. Wholeheartedly recommended!
---