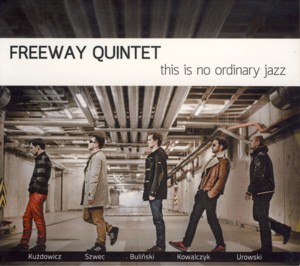 FREEWAY QUINTET ~ THIS IS NO ORDINARY JAZZ
NOT ON LABEL ~ POLAND ~ Jazz-Rock Fusion
Recorded: 2012
Released: 2014
---
This is the debut album by young Polish Jazz ensemble Freeway Quintet

Find albums by this artist

, co-founded by saxophonist Piotr Szwec

Find albums by this artist

and guitarist Marcin Kuzdowicz

Find albums by this artist

. The lineup is completed by a second saxophonist Krzysztof Kowalczyk

Find albums by this artist

, bassist Pawel Urowski

Find albums by this artist

and drummer Wojciech Bulinski

Find albums by this artist

. Female vocalist Paulina Golebiowska

Find albums by this artist

and percussionist Konrad Roginski

Find albums by this artist

appear as guest musicians on several tracks. The album presents nine original compositions, seven of which were composed by Kuzdowicz and one each by Szwec and Urowski.

The music presented by the group has certainly some unusual elements, such as a double saxophone front line, rocky, often distorted guitar and melodic lines based on ethnic motifs, which altogether are closer to Jazz-Rock Fusion or Progressive Rock than to Jazz. Therefore the statement used as the album´s title is correct to some degree; but let´s not exaggerate, this music, although very nice and interesting, is definitely not revolutionary or radically different from music we all heard before.

But statements aside, this is quite an excellent album in every respect. The original music is the strongest artistic statement herein, with beautifully developed melodies and rich instrumental arrangements. There is a lot of the typical Polish melancholy, which is predominant even on the more up-tempo pieces. Overall the music is simply superb from start to finish. It is also very well performed by all the musicians involved, although personally I´d prefer to hear more improvisation and soloing. But the ensemble spirit, which is very strong on this album, is also gratifying.

It is certainly interesting to see where the group will take their "no ordinary Jazz" into the future. There is so much potential and possibilities here, that anything is possible. Polish Jazz / Fusion and even Prog connoisseurs should definitely keep an eye on these talented young musicians.

As far as debuts go, this is definitely one of the most impressive I´ve come across this year, perhaps because it is original enough to distinguish itself from many other debuts that mostly follow up well beaten tracks. Well done!
---