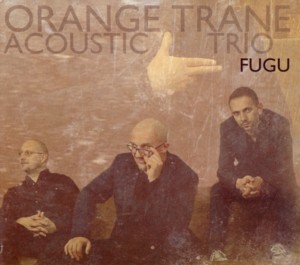 ORANGE TRANE ~ FUGU
SOLITON 347 (Barcode: 5901571093475) ~ POLAND ~ Jazz
Recorded: 2013
Released: 2014
---
This is the fourth album by the Polish Jazz ensemble Orange Trane

Find albums by this artist

, and the second album by its second incarnation now called Orange Trane Acoustic Trio

Find albums by this artist

, which consists of vibraphonist Dominik Bukowski

Find albums by this artist

, bassist Piotr Lemanczyk

Find albums by this artist

and drummer Tomasz Losowski

Find albums by this artist

. The album includes ten tracks, nine of which are original compositions: seven by Lemanczyk and two by Bukowski, and one is a standard.

The music of Orange Trane is a beautiful amalgam of Jazz, contemporary Classical and World Music influences, performed with incredible virtuosity and impeccable taste. Bukowski plays vibraphone, marimba and xylosynth – a synthesized version of the xylophone, Lemanczyk plays both acoustic and electric basses and Losowski plays a wide array of percussive instruments; together they create a magic atmosphere of intimate acoustic music which is full of mystery, with scents of ancient times and far away places. The whole album is like a soundtrack of an imaginary voyage, with each track enfolding a new panorama.

The intimate acoustic setting emphasizes each individual sound and the sheer virtuosity of these performances, which are truly amazing. Personally Lemanczyk, who also composed most of the music, is the most impressive performer, with breathtaking solos and superb control of his instruments, but his colleagues also stand shoulder to shoulder with him, contributing equally well. Bukowski sets the main melodic themes, using a wide array of sounds between completely acoustic and electronically generated and Losowski drives the whole affair rhythmically, but gently enough to be in sync with the rest of the music.

This is intelligent, delicate and elegant music, which is a true pleasure to listen to, and which stimulates the intellectual parts of the listener´s brain at the same time, a rare commodity these days. Although perhaps not groundbreaking, it is definitely graceful and unique, deserving to be heard by as many music connoisseurs as possible. Well done indeed!
---