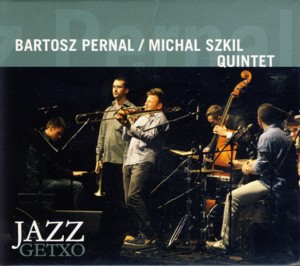 BARTOSZ PERNAL / MICHAL SZKIL ~ JAZZ GETXO
ERRABAL 065 (Barcode: 8436010304357) ~ POLAND ~ Jazz
Recorded: 2013
Released: 2013
---
Like several other young Polish Jazz ensembles before them, the quintet co-led by trombonist Bartosz Pernal

Find albums by this artist

and pianist Michal Szkil

Find albums by this artist

won the international Jazz Festival Competition at Getxo, Spain, and as a result their concert was released by a local record label, which is also their debut album. In addition to Pernal and Szkil the quintet also includes trumpeter Maurycy Wojcinski

Find albums by this artist

, bassist Michal Kapczuk

Find albums by this artist

and drummer Grzegorz Maslowski

Find albums by this artist

. The live recording presents five tunes, three of which are original compositions by Pernal, one is a John Coltrane

Find albums by this artist

composition and the remaining one is a Kenny Wheeler

Find albums by this artist

piece.

As usual in such cases it is quite amazing to witness the level of musicianship and skill presented by these young musicians. Obviously well schooled and full of individual talent they create energetic and highly sophisticated modern mainstream. The original compositions are all top notch and their treatment of the standards is unusual and very sensitive. Of course the live recording reveals also minor glitches committed in the heat of the process, but those are completely insignificant in the overall view of things. The quintet has a somewhat unusual sound with the trombone / trumpet front, which adds to its attraction.

As far as the individual performances are concerned, the two co-leaders present the highest level of technical skill and inventiveness. Szkil is particularly worth following as his piano magic will surely find a large following sooner or later. The trumpeter is full of bravado and imagination, but he keeps missing a note here and there, which is noticeable. The rhythm section is excellent and adds a significant layer to the overall sound and presentation.

Overall here comes another group of young Polish Jazz lions, which will create the next generation of the local Jazz scene in the years to come. Considering how great they are already, the future definitely looks bright!
---