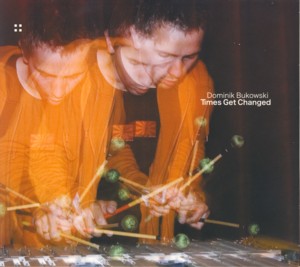 DOMINIK BUKOWSKI ~ TIMES GET CHANGED
ECNALUMBA (Barcode: 5907476693314) ~ POLAND ~ Jazz
Recorded: 2007
Released: 2008
---
This is the second album as a leader by Polish Jazz vibraphonist / composer Dominik Bukowski

Find albums by this artist

, one of the most prominent representatives of Poland´s Baltic seashore scene. Bukowski´s output over the years is quite prolific and impressive, but stylistically it is mostly associated with lyrical and melodic Jazz, whereas on this album he presents a brass oriented Hard Bop setting with a distinct "retro" sound and brass dominated arrangements. The album consists of eight original compositions, all by Bukowski (assumedly as credits are not mentioned on the album´s cover). The music is performed by a sextet, which besides Bukowski includes also trumpeter Piotr Wojtasik

Find albums by this artist

, trombonist Jacek Namyslowski

Find albums by this artist

, saxophonist Lukasz Poprawski

Find albums by this artist

, bassist Maciej Szczycinski

Find albums by this artist

and drummer Sebastian Frankiewicz

Find albums by this artist

. It was recorded at the excellent Studio Tokarnia and engineered by Jan Smoczynski

Find albums by this artist

with excellent results, as usual.

The music is dominated by the brass section and Bukowski plays solo sparingly, which altogether reflects his position as a leader of this session in the composer´s and arranger´s seats rather than upfront as an instrumentalists. That unselfish decision is of course praiseworthy and also creates a superb ensemble sound, which is after all one of the centerpieces of the Jazz experience. Needless to say the individual performances by all the participants are above reproach. The brass players perform numerous excellent solos, the vibraphone lays out the harmonic parts and the excellent rhythm section moves the music forward with considerable drive but without being overbearing.

In retrospect this is a remarkable album, well worth discovering and re-visiting. It is sadly rarely mentioned among the important Polish Jazz recordings, although it definitely deserves an honorable mention, as it is quite different from most other albums recorded in Poland in the first decade of the 21st Century. It is definitely worthy a place in any Jazz connoisseur´s collection and a proud item in Bukowski´s already remarkable legacy.
---