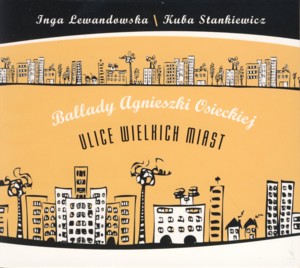 INGA LEWANDOWSKA / KUBA STANKIEWICZ ~ ULICE WIELKICH MIAST – BALLADY AGNIESZKI OSIECKIEJ
INTRO 003 (Barcode: 5907592167027) ~ POLAND ~ Jazz
Recorded: 1999
Released: 1999
---
This is an absolutely brilliant album in the Jazz & Poetry vein, for which the Polish Jazz scene is so famous and in which it excels since its early days. Vocalist Inga Lewandowska

Find albums by this artist

performs eleven songs, all of which share the author of their lyrics, the Polish poetess Agnieszka Osiecka

Find albums by this artist

, an iconic figure of the post-WWII Polish Culture and author of over 2000 song lyrics. Lewandowska and pianist / composer Kuba Stankiewicz

Find albums by this artist

, who also beautifully arranged all the songs on this album, chose mostly Jazz-related material, which features Osiecka´s lyrics and was written by some of the most prominent figures on the Polish Jazz scene, like Wlodzimierz Nahorny

Find albums by this artist

, Jan Ptaszyn Wroblewski

Find albums by this artist

, Zbigniew Namyslowski

Find albums by this artist

and others. Stankiewicz composed two of the songs presented here.

The vocalist is accompanied by a quintet of excellent musicians, which include in addition to Stankiewicz also trumpeter Piotr Wojtasik

Find albums by this artist

, trombonist Grzegorz Nagorski

Find albums by this artist

, bassist Darek Oleszkiewicz

Find albums by this artist

and Austrian drummer Mario Gonzi

Find albums by this artist

. The quintet provides superb support to the vocalist but also plays extended instrumental passages, which are simply exquisite examples of European Jazz lyricism. Especially notable is the delicate and sympathetic work by the piano and the "singing" bass solos, for which Oleszkiewicz is world famous. One of the songs presents a vocals / bass duet, which is a true classic!

Lewandowska does a splendid job, utilizing more of the Polish Jazz vocal tradition firmly established by legendary performers like Ewa Demarczyk and Wanda Warska, rather than trying to be more up to date, which altogether works in her favor. That time of expressive, melancholic singing, in which every breath matters and every syllable is clearly pronounced and is perfectly audible is a rarity and I wish the new generation of Polish Jazz vocalists would pay more respect to that "lost" Art form. The songs are mostly low key, as the title suggests and Lewandowska cleverly avoids any flashy exhibitionism, staying well within the established milieu, which is chick and elegant.

In many respects listening to this album feels like an "end of an era". It was, after all, recorded at the very closing of the 20th Century and seems, in retrospect, to be the last of its kind, a tribute to the days when Polish Jazz experienced its first golden era, associated with intellectual, artistic and often revolutionary spring, which was soon over.

I am glad I discovered this wonderful gem, although late, but nevertheless most enthusiastically. It is little known, as it managed to hide from me for so long, but should be studied, as already mentioned, by all upcoming vocalist, as it is a classic point of reference. It is also an absolute must for every Polish Jazz connoisseur, anywhere on this planet.
---