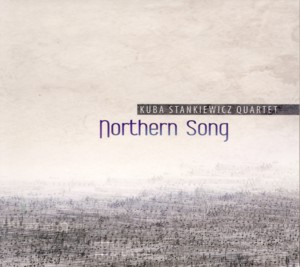 KUBA STANKIEWICZ ~ NORTHERN SONG
INTRO 004 (Barcode: 5907592167034) ~ POLAND ~ Jazz
Recorded: 1993
Released: 1993
---
This is the debut album by Polish Jazz pianist / composer Kuba Stankiewicz

Find albums by this artist

recorded in a quartet setting with saxophonist Henryk Miskiewicz

Find albums by this artist

, bassist Adam Cegielski

Find albums by this artist

and drummer Cezary Konrad

Find albums by this artist

. It presents nine tracks, seven of which are original compositions by Stankiewicz and two are standards. Stankiewicz started his career in the mid 1980s as a member of Zbigniew Namyslowski

Find albums by this artist

´s group at the time, recording with him two albums. In the late 1980s he studied at the Berklee Collage of Music in Boston and upon his return to Poland formed the quartet which recorded this album. Over time he established for himself a leading position on the local Jazz scene as composer, arranger, performer and educator.

This album presents melodic mainstream Jazz, executed with flair and perfection by a quartet of highly talented and experienced players, who continue the tradition of Polish Jazz established three decades earlier with a mixture of American Jazz tradition at its best and European lyricism and elegance combined into an irresistible swinging and sparkling Jazz presentation. The individual performances by all quartet members are truly outstanding. Miskiewicz plays with his usual fluency and melodic smoothness, which makes him one of the best players on the scene. The rhythm section is also right where it belongs, with the bass supporting the melody lines on one hand and stating the rhythmic pulse on the other and the drums keep perfect time without being obtrusive.

But it is Stankiewicz, who is at the center of the listener´s attention, both as a player and a composer. His beautiful tunes sound remarkably "familiar" even at the first encounter, which of course is a sign of perfect harmonic balance and melodic excellence that characterizes all great Jazz pieces. His piano playing is another proof of his sublime sensitivity and feel for Jazz, which is immediately apparent. It is hardly surprising that this album won the "Album of the Year" title at the time of its release, over twenty years before these notes are being written.

In retrospect it is quite clear that great music ages well, and this album sounds as relevant and exciting today as it did at the time it was recorded. Although it is rooted in the mainstream tradition, it presents the best side of the tradition, which is simply eternal. Listening to this album should be pleasurable to every true Jazz connoisseur, anywhere on this planet, as it is simply one of those gems that are always worth revisiting.
---