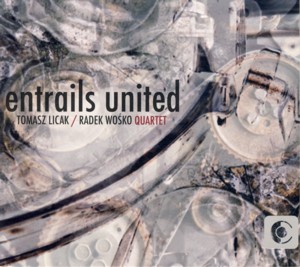 TOMASZ LICAK / RADEK WOSKO ~ ENTRAILS UNITED
RECART 0012 (Barcode: 5908285287114) ~ POLAND ~ Jazz
Recorded: 2013
Released: 2014
---
This is the debut album by a quartet co-led by two young Polish Jazz musicians: saxophonist Tomasz Licak

Find albums by this artist

and drummer Radek Wosko

Find albums by this artist

. As students of the Carl Nielsen Academy of Music in Odense, where many other Polish musicians study lately, they completed their quartet by adding two Danish players: pianist Carl Winther

Find albums by this artist

and bassist Martin Buhl

Find albums by this artist

Staunstrup (who appears on albums as Martin Buhl only). The album comprises of nine original compositions, four by Wosko, three by Winther and two by Licak.

In many respects this album is quite typical of the new generation Polish (and Polish / Danish) Jazz bands, which display mostly an incredible level of musicianship and artistry. These bands sound professional and flawless from day one, which is pretty amazing. The individual statements are all excellent, as is the interplay between the band members. In short this is really an excellent Jazz album, with solid original compositions and inspired performances, which would not shame much older and more experienced professionals.

The music is spiced with the European Jazz elements, like melancholy, lyricism and elegance, which are often emphasized by the original compositions. Winther is in charge of the more melodic / delicate elements while Licak plays slightly more expressive, yet still mostly very melodically. The rhythm section is perfect at what it does, with Buhl being the pillar of strength and order, balanced by Wosko who plays with a significant degree of freedom. Together they sound like one organic body making music. If I could suggest anything it would be for Winther, Buhl and Wosko to record an album as a piano trio, which I think could be simply sensational.

Over time there appears to be a tendency among the Polish / Danish bands to be significantly more conventional / mainstream oriented than similar bands in the same age bracket, which arise in Poland. Most probably this has something to do with the teaching at Odense, or the atmosphere at the Danish Academy, which influences its alumni, which strangely enough emphasizes individuality and courage in its formal agenda. As a result this album, as excellent as it is, lacks a certain degree risk taking, adventure and unexpectedness. Everything here is simply just right, but alas often just "too right". However, considering the talents of these musicians one can hope that time will work in their favor.

This is definitely an excellent debut, which should make the participating musicians very happy and the potential listeners even happier. Listeners who love modern mainstream based on melodic themes and played with flair and elegance should enjoy this music immensely. Well done gentlemen!
---