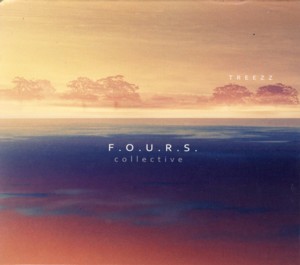 F.O.U.R.S. COLLECTIVE ~ TREEZZ
SJ 010 (Barcode: 5912596066092) ~ POLAND ~ Jazz
Recorded: 2013
Released: 2014
---
This is the debut album by a young Polish Jazz ensemble F.O.U.R.S. Collective

Find albums by this artist

, formed in 2010. The current quintet lineup was completed when the trumpeter Piotr Schmidt

Find albums by this artist

joined the existing members: saxophonist Stanislaw Plewniak

Find albums by this artist

, pianist Michal Salamon

Find albums by this artist

, bassist Jakub Dworak

Find albums by this artist

and drummer Szymon Madej

Find albums by this artist

. The album presents nine original compositions, five composed by Salamon and four co-composed by Salamon and Plewniak.

The music is immediately recognizable as "spanking new", full of energy and vigor, which often characterizes the young Polish Jazz generation. Although kept well within the mainstream / melodic idiom, the music demonstrates a wide range of stylistic approaches, touching upon Jazz-Rock Fusion, classic modern Jazz and amalgamating World Music elements. But most importantly the level of the compositions is absolutely outstanding. Every tune on this album is a little gem, with a beautiful melody line, flowing structure and an ideal vehicle for improvisations.

The individual performances are also first class; Salamon plays delicate acoustic piano and funky electric, Plewniak is especially effective on the soprano and the rhythm section does exactly what is right at all times, driving the music forward and providing the pulse which is an essential ingredient of this music. Schmidt, who is the most experienced player in the ensemble, sounds also invigorated in this setting and delivers some scorching trumpet solos.

As a debut this is quite an achievement in any sense. Superb music, great playing, talent, determination and musical intelligence are all clearly visible here and hopefully this is just the first stem in a long a successful future career. Well done amigos!
---