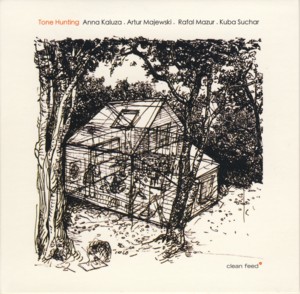 KALUZA / MAJEWSKI / MAZUR / SUCHAR ~ TONE HUNTING
CLEAN FEED 285 (Barcode: 5609063002850) ~ POLAND ~ Jazz
Recorded: 2012
Released: 2013
---
This is the debut album by the Improvising Music quartet, which consists of German saxophonist Anna Kaluza

Find albums by this artist

and three Polish musicians: trumpeter Artur Majewski

Find albums by this artist

, acoustic bass guitarist Rafal Mazur

Find albums by this artist

and drummer Kuba Suchar

Find albums by this artist

. Majewski and Suchar are or course known as the excellent duo Mikrokolektyw

Find albums by this artist

and Mazur is a member of the TRC Trio

Find albums by this artist

. The album presents five extended improvisations, credited to all quartet members and was released by the excellent Portuguese Clean Feed

Find albums on this label

label.

The music is a great example of the vitality of the Polish / European Improvising Music scene, which is enjoying a tremendous Renaissance and involves a new generation of players and enthusiasts. These four musicians are among the most innovative and interesting representatives of the genre and have been already recognized internationally as important creative forces. Listening to this album clearly shows why they deserve such recognition.

Although improvised, the music presents a diverse stylistic collage of sound vistas, from minimalistic and delicate breathing tones to expressive collective forceful statements. Most of the sounds and tones heard on this album are quite remote from what one would expect from the conventional usage of the instruments involved, and yet they somehow make all perfect sense and create a wonderful amalgam, which is obviously unlike almost anything heard before. In most cases the quartet members produce a series of rapid staccato sounds, which then are all intermixed into one sonic whole.

In contrast to most "conventional" music, which once stated becomes unwavering in consequent listening encounters, this music is constantly alive and chameleonic, changing each time one listens to it. That elusiveness and constant ability to be transformed is of course what makes this music so fascinating.

Obviously this is definitely not something for a casual listener and its overall accessibility is limited to connoisseurs of the genre, but as such, it is unquestionably one of its finest exhibits.
---