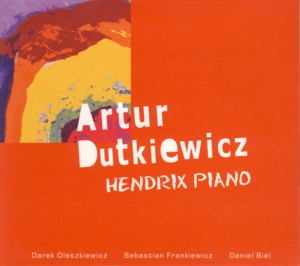 ARTUR DUTKIEWICZ ~ HENDRIX PIANO
PIANOART 5907760035028 (Barcode: 5907760035028) ~ POLAND ~ Jazz
Recorded: 2007
Released: 2010
---
This is the fourth album as a leader by Polish Jazz pianist / composer Artur Dutkiewicz

Find albums by this artist

, recorded in a classic Jazz piano trio setting with bassist Darek Oleszkiewicz

Find albums by this artist

(bassist Daniel Biel

Find albums by this artist

plays on three tracks) and drummer Sebastian Frankiewicz

Find albums by this artist

as his partners. The music, as the title suggests, is a tribute to the legendary American guitarist / songwriter Jimi Hendrix

Find albums by this artist

and presents nine instrumental arrangements of songs from his repertoire, seven of them composed by Hendrix and two composed by others. The album was recorded at the excellent Studio Tokarnia and was engineered by Jan Smoczynski

Find albums by this artist

with spectacular sonic results

This album was recorded at the same sessions which produced the previous album by Dutkiewicz, called "Niemen Improwizacje

Find albums with this title

", which pays tribute to the music of Czeslaw Niemen

Find albums by this artist

, the legendary Godfather of Polish Pop / Rock. Therefore these two albums share not only the recording dates but also basically the same musical concept, i.e. the transformation of Pop / Rock music into the mainstream Jazz environment.

Of course the music of Hendrix, who was a major Rock star with a worldwide following, was already arranged and performed by many Jazz artists earlier, with varying results, some absolutely spectacular and other utterly worthless. Although seemingly words apart, Niemen and Hendrix shared one obvious characteristic: their deep affinity to the Blues, which Dutkiewicz cleverly exploits on both these albums, and uses this opportunity to highlight his own Blues chops.

The fact that these two albums were recorded basically together and present a common concept obviously "asks for" a comparison, which I´d rather avoid, but unfortunately that is quite impossible. Personally this album works slightly less effectively for me than its companion, which probably has nothing to do with the music but my own perception of the music Hendrix created and I was fortunate to hear live on several occasions. I seem to be unable to free myself from the stunning guitar sound which my memory / brain stores under the Hendrix pointer. This music played by a piano, however well, simply does not cut it for me as well as it should.

But of course this album shares many of the same beautiful qualities present on its companion: great performances, intelligent arrangements, wonderful interplay between the trio members and so on. It is a great piano trio album in every respect and an admirable tribute to the Genius of Hendrix. Obviously Jazz connoisseurs all over the globe should be able to enjoy this music without reservation.
---