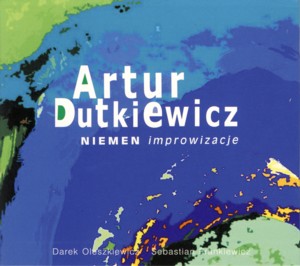 ARTUR DUTKIEWICZ ~ NIEMEN IMPROWIZACJE
PIANOART 5907760035011 (Barcode: 5907760035011) ~ POLAND ~ Jazz
Recorded: 2007
Released: 2009
---
This is the third album as a leader by Polish Jazz pianist / composer Artur Dutkiewicz

Find albums by this artist

, recorded in a classic Jazz piano trio setting with bassist Darek Oleszkiewicz

Find albums by this artist

(bassist Daniel Biel

Find albums by this artist

plays on one track) and drummer Sebastian Frankiewicz

Find albums by this artist

as his partners. The music, as the title suggests, is a tribute to the legendary Polish singer / songwriter Czeslaw Niemen

Find albums by this artist

and presents ten instrumental arrangements of songs from Niemen´s repertoire, eight of which were also composed by him and two which were composed by others. The album was recorded at the excellent Studio Tokarnia and engineered by Jan Smoczynski

Find albums by this artist

with spectacular sonic results

Niemen was always associated with Jazz and was a pioneer of the Polish Jazz-Rock Fusion movement, but he actually never quite crossed over into Jazz, and this album does it for the first time. Niemen´s songs, stripped of their dramatic vocals and poignant lyrics, can be hear here for what they really were; a superb amalgam of Blues soaked Rock, Rhythm And Blues, Soul, Groove and Folkloristic themes, which are all obviously quite timeless.

Dutkiewicz took quite a risk here, as transforming Niemen´s music into a swinging Jazz environment might have trivialized it or even turned it into grotesque muzak. Luckily all this was cleverly avoided by the intelligent arrangements and highly sensitive performance, which simply transformed the music into a completely different plane. Many musical Icons seem to be simply untouchable, and most attempts, which try to utilize or update them, fail miserably. This is a rare example of a successful attempt of transplanting iconic music to a new environment without destroying the original.

The trio´s performance is of course spotless, as nothing less should be expected from musicians of such class. The players concentrate on playing the music and there are no lengthy individual solo sports, which would be quite inappropriate here, but a wonderful togetherness and concise delivery. Intelligence, sensitivity and grace are the name of the game and the music is never trivial or banal.

Listeners familiar with Niemen´s original performances of these songs will find this album quite fascinating of course, when trying the find the parallels and the divergences. But even people who never heard of Niemen (obviously beyond Poland´s borders) should find this to be an excellent piano trio album worthy of repeated listening.
---