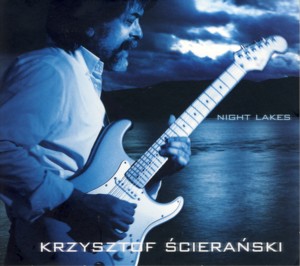 KRZYSZTOF SCIERANSKI ~ NIGHT LAKES
POLSKIE RADIO 1713 (Barcode: 5907812247133) ~ POLAND ~ Smooth Jazz
Recorded: 2012
Released: 2014
---
In the liner notes attached to this album Polish Jazz electric bass virtuoso Krzysztof Scieranski

Find albums by this artist

confesses that his initial dream was to become a guitarist and the fact that he became Poland´s bass guitar legend is, as often happens in life, a matter of circumstances and of course the fact that his brother already played guitar. One way or another, the audiences had the pleasure of enjoying his superb performances for four decades now. This album is primarily a realization of a dream where Scieranski could play guitar in addition to his already legendary bass routine. He is accompanied on this album by a core trio: saxophonist Michal Kobojek

Find albums by this artist

, keyboardist Michal Lyczek

Find albums by this artist

, drummer Przemyslaw Kuczynski

Find albums by this artist

and a few other musicians. Two tracks (the opening and closing ones) also include vocals. The album presents twelve original compositions, all by Scieranski.

The music is a mixture of relatively uncomplicated Smooth Jazz tunes, ranging between Jazz-Rock Fusion and almost Popish signatures, all very melodic and well structured harmonically. The tunes are definitely much more solid than most if not all the material found on Smooth Jazz recordings. There is something for everybody here and all of it is slick and pleasurable, so I wouldn´t be surprised if this album becomes very popular indeed among listeners of all ages and musical persuasions.

The performances are all excellent from start to finish. These are all highly skilled and professional musicians and one should expect nothing less than technical perfection. Absurdly, although Scieranski plays some great guitar licks, it is his bass playing that is the most impressive, especially when he uses the fretless bass. He actually plays guitar on only about half of the tracks.

To summarize this is an excellently executed Smooth Jazz album, which includes a collection of tunes that are much stronger that the usual stuff one finds on that type of releases. Scieranski is a virtuoso by any standard and this album is simply another proof of the fact that he is simply great in any environment. And yes, he can play the guitar as well, which nobody can deny!

Music for fast red cars, long haired blondes and sunny beaches… California here we come!
---