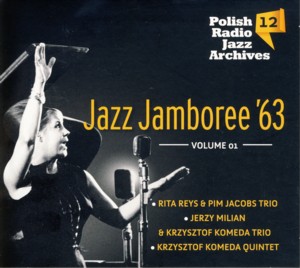 VARIOUS ARTISTS ~ POLISH RADIO JAZZ ARCHIVES VOL.12
POLSKIE RADIO 1632 (Barcode: 5907812246327) ~ POLAND ~ Jazz
Recorded: 1963
Released: 2014
---
This is the twelfth installment in the new series of releases initiated by the Polish Radio, which presents archive Jazz recordings. Radio recordings are always a fabulous source of remarkable material, and as far as Polish Jazz history is concerned, the Polish Radio, which was a state monopoly for 45 years, recorded over time a plethora of invaluable material, which apart from the albums released by the Polskie Nagrania record company (also a state monopoly), is the only available additional source of Polish Jazz recordings. For many years Polish Radio recorded concerts presented during Poland´s most important Jazz venues, including the annual Jazz Jamboree Festival and many other festivals as well.

The material collected here presents recordings made in 1963 during the sixth Jazz Jamboree festival in Warsaw. The majority of the material, i.e. thirteen of the seventeen tracks, is performed by Dutch vocalist Rita Reys

Find albums by this artist

(who died a few months ago in July 2013) accompanied by a trio led by her husband pianist Pim Jacobs

Find albums by this artist

with guitarist Wim Overgaauw

Find albums by this artist

and Pim´s brother bassist Ruud Jacobs

Find albums by this artist

. In addition one instrumental track by the trio is also included. The remaining three tracks are performed by the top Polish Jazz musicians at the time: two by vibraphonist / composer Jerzy Milian

Find albums by this artist

accompanied by the Krzysztof Komeda

Find albums by this artist

trio with bassist Maciej Suzin

Find albums by this artist

and drummer Leszek Dudziak

Find albums by this artist

; the last track is by the Komeda quintet, with saxophonist Michal Urbaniak

Find albums by this artist

, trumpeter Tomasz Stanko

Find albums by this artist

, bassist Maciej Suzin and drummer Czeslaw Bartkowski

Find albums by this artist

. All the tracks are Jazz standards except for the last one, which is a Komeda composition.

Reys performs a set of classic vocal material, comprising of popular songs known to all Jazz listeners. Her singing is beautifully expressive, but not virtuosic and copying mannerisms from American vocal Jazz stars. She also has a slight foreign accent, but definitely passable. The accompaniment is elegant and supportive, with Pim´s piano playing being truly exceptional. The guitar plays sadly only a few solo spots, and when not soloing it is mostly hidden in the recording balance; as a result is seems Reys is accompanied mostly by a piano / bass duo only. Overall this is a fine presentation of mainstream Jazz vocals, nothing spectacular but a nice document of the moment in time.

The Milian tracks are also rather pale, well performed and all, but again nothing special. Komeda plays some great piano phrases, which are always delightful and the rhythm section is doing its job as expected. The Komeda quintet is obviously the most interesting track herein with a typical beautiful melody line only he could weave and the quintet playing along splendidly. One may wonder why these three tracks were selected as the "filler" for this album, as both ensembles (Milian´s and Komeda´s) played full sets, which would be very interesting in their entirety.

The beautifully restored sound quality is excellent and the warm ambience of the analog recording is a true joy. As usual with this series, which is very reasonably priced, I miss the presence of "in depth" liner notes / booklet, which should convey the circumstances at which this music was recorded and its importance to the development of Jazz in Poland. Nevertheless this is an absolutely essential piece of Jazz history which every Jazz fan will surely consider an absolute must.
---