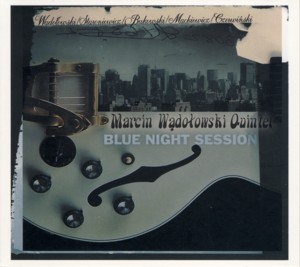 MARCIN WADOLOWSKI ~ BLUE NIGHT SESSION
ALLEGRO 028 (Barcode: 5901157049285) ~ POLAND ~ Jazz
Recorded: 2013
Released: 2014
---
This is the second album by the Polish Jazz guitarist / composer Marcin Wadolowski

Find albums by this artist

, recorded in a quintet setting with saxophonist Wojciech Staroniewicz

Find albums by this artist

, vibraphonist Dominik Bukowski

Find albums by this artist

, bassist Janusz Mackiewicz

Find albums by this artist

and drummer Adam Czerwinski

Find albums by this artist

, all seasoned players from the Polish Tricity region. The album presents ten original compositions, all by Wadolowski. Wadolowski can be also heard as a member of Elec-Tri-City

Find albums by this artist

and Moongang

Find albums by this artist

.

The music is all very melodic and kept within the mainstream Jazz conventions. All the tracks are relatively short, creating a sort of "songs" album, although of course entirely instrumental, in contrast to a typical Jazz recording, which focuses on the improvisational skills. Wadolowski simply decides to concentrate on featuring his skills as a composer and presenting his music rather than his and his quintets performing talents. There is basically absolutely nothing wrong with such approach of course.

Nevertheless the album features very talented and skilled instrumentalists and although the framework and time limitations of this album allow rather modest contributions, those are all executed perfectly. Staroniewicz is a marvelous player and so is Bukowski, who uses recently more and more the xylosynth (a combination of xylophone and synthesizer, which sound really more like a keyboard and produces some very beautiful moments. The rhythm section is also perfect for the job, staying mostly in the background but providing a solid support for the soloist and doing it with grace and elegance. As to the leader, personally I prefer his work in a more electric / Fusion / Funky environment than playing gentle almost acoustic guitar, which limits his possibilities or perhaps exposes more his technical weaknesses, but overall his performance is also quite satisfactory.

All in all we have here a pleasant well played album, which should satisfy most Jazz connoisseurs, with a slight tendency towards melodic and less complex musical forms. This album is quite ideal for a lazy evening with a glass of a wonderful cognac or very old single malt on ice.
---