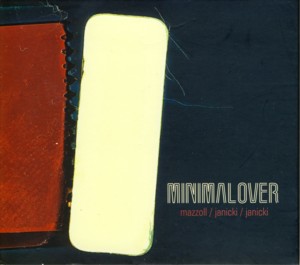 MAZZOLL / JANICKI / JANICKI ~ MINIMALOVER
NOT ON LABEL ~ POLAND ~ Jazz
Recorded: 2011
Released: 2011
---
This is the debut album by the Polish Avant-Garde trio, which consists of clarinetist Jerzy Mazzoll

Find albums by this artist

, bassist Slawek Janicki

Find albums by this artist

and drummer Qba Janicki

Find albums by this artist

. The album consists of a CD, which includes six improvised pieces recorded in a studio, based on Mazzoll´s ideas, and a DVD which documents a live concert filmed immediately following the studio recording. The music and video was recorded at the legendary "Mozg" center in Bydgoszcz, which includes a recording studio and a club, one of Poland´s most interesting musical epicenters.

Mazzoll, one of the pioneers of Polish contemporary Free Jazz / Improvised Music scene and one of the Godfathers of the Yass movement, remains to be a central figure of that scene and his prolific activity is well documented. Slawek Janicki was a member of Mazzoll´s Arhythmic Perfection

Find albums by this artist

for many years and they are now joined by Slawek´s son Qba. Mazzoll was also an early member of the legendary ensemble Milosc

Find albums by this artist

.

Although obviously highly spirited and full of great musicianship, the music presented on this album failed to engage me, which is a prerequisite to be able to truly enjoy it. To make sure this is not just a whim of the moment I listened to the music on different occasions and still was left cold. Even the additional visual layer present on the DVD failed to change the situation. Perhaps this music was an ideal vehicle as a means of communication between the players, but it failed to break the intimate inner circle. I admit a personal failure here, not blaming the musicians.

The album itself is a beautiful document of the Mozg center and the activities that are carried out there. Considering the fact that this kind of underground culture, which is supported by local Government and carries on a tradition for several decades, this is a wondrous and highly unusual phenomenon.
---