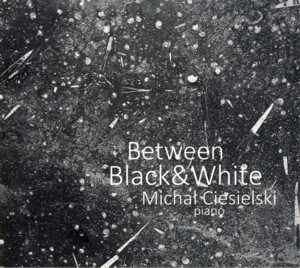 MICHAL CIESIELSKI ~ BETWEEN BLACK & WHITE
BCD 30 (Barcode: 5906881885338) ~ POLAND ~ Jazz
Recorded: 2012
Released: 2013
---
This is the debut album by the young Polish Jazz pianist / composer Michal Ciesielski

Find albums by this artist

, which presents thirteen compositions, twelve of which are his own original compositions and one is a standard. Ciesielski performs the music on solo piano, which is a very bold and courageous statement quite unusual for a debut.

Although Ciesielski is a very eloquent pianist, the real surprise here are his delightful compositions; a collection of impressions, miniatures and other ditties, which are all quite charming even if seemingly simplistic. Perhaps a great melody line and an elegant harmony is exactly what we need in times like these, when we are being smothered with overwhelming racket. This album is like a breath of fresh air or a whiff of women´s perfume in a malodorous environment.

To be perfectly honest this music is only marginally associated with Jazz. The compositions, or at least most of them, have a distinct Classical music influence, folkloristic touches, Ragtime memories and Broadway classic songwriting qualities, which of course is all perfectly acceptable. Ciesielski will surely find his own language in time, which seems pretty evident judging his achievements so far.

The piano playing is a bit too "pretty" as far as my personal taste is concerned, perhaps due to the influence of pianist Leszek Mozdzer

Find albums by this artist

, who seems to be hovering in the background, but again time will surely cure this sooner or later. And pretty or not, it is definitely excellent and enjoyable.

Overall this is an impressive debut, well within the conventional Jazz mainstream, which usually offers little originality, which this album is awash with. Ciesielski is definitely on my radar from now on, destined to go places. Well done indeed!
---