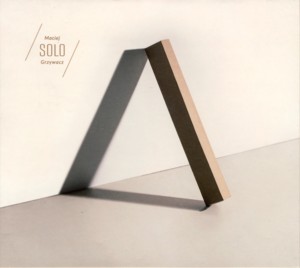 MACIEJ GRZYWACZ ~ SOLO
BLACK WINE 001 (Barcode: 5902020424024) ~ POLAND ~ Jazz-Classical Fusion
Recorded: 2013
Released: 2013
---
This is a solo guitar album by veteran Polish Jazz guitarist / composer Maciej Grzywacz

Find albums by this artist

, and after many years of playing mostly electric guitar his comeback to the acoustic classical guitar, his first musical love. The album presents nine tracks, two of which are his compositions and the rest are standards.

Polish Jazz fans familiar with his recordings with the group (0-58)

Find albums by this artist

or his earlier solo efforts will find this album quite different in comparison. This is naked acoustic guitar playing completely natural acoustic sounds, usually associated with Classical music. Although the music comes from the Jazz world, the solo guitar arrangements change their overall appearance drastically, especially as far as the rhythmic approach is concerned, which turns the well known Jazz pieces into somewhat somber, melancholic Classical pieces. The melodic themes are still there, but the swing is gone.

Therefore Jazz oriented listeners might find this album a bit too much to swallow, especially in the long term. Although the album is only slightly over thirty minutes in duration, this is way beyond the scope of attention of people who need to tap their feet in order to enjoy music. Although Grzywacz is an excellent player with splendid technical proficiency, which is easily recognizable, I´m afraid the public will find this way above their heads and move on to greener pastures.

I enjoy this music myself, but I don´t think that this album adds anything significant to the already superb recorded legacy by Grzywacz. But an artist has a right to indulge himself from time to time.
---