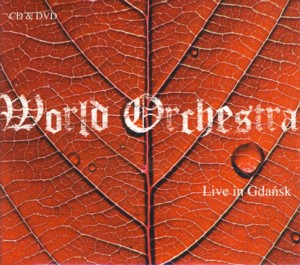 WORLD ORCHESTRA ~ LIVE IN GDANSK
UNIVERSAL 028948107599 (Barcode: 028948107599) ~ POLAND ~ Jazz-World Fusion
Recorded: 2011
Released: 2013
---
The World Orchestra is a brainchild of Polish Jazz saxophonist / composer Grzech Piotrowski

Find albums by this artist

, who managed to create an international ensemble of dozens of musicians from all over the world, which performs a sort of Jazz-World Fusion music, based on melodic themes with strong ethnic flavors. This album presents a live recording by the World Orchestra, featuring some world-famous World Music artists, like the Bulgarian kaval player Theodosii Spassov

Find albums by this artist

, Finnish kantele player Sinikka Langeland

Find albums by this artist

, the Bulgarian Voices Angelite

Find albums by this artist

choir and many others. Polish artists included Atom String Quartet

Find albums by this artist

, pianist Marcin Wasilewski

Find albums by this artist

and a large orchestra; all in all 84 (according to the liner notes) musicians on one stage. They perform fourteen pieces, most of which were composed by Piotrowski, with a few exceptions.

Although the logistics behind this project must have been staggering and the basic idea of combining musical cultures is definitely commendable, the overall result is very problematic. There is no common bond linking the different pieces together, no thematic thread, not even a loosely devised common denominator. As a result each of the pieces more or less works on its own, but is not connected to anything before and after it and the entire concert becomes a sort of tribute to different folkloristic themes, but not more. Although all the musicians involved are true masters of their respective trade, the lush orchestral arrangements and the ambience of Smooth Jazz floating above create a typical overproduced easy-listening music, which keeps the brain in a state of blissful lethargy.

This kind of domesticated World Music is very popular since it is accessible to large crowds, who would definitely have a problem to stomach some authentic Folklore and need the sugary envelope to be able to swallow it. Of course one can wonder is this is the correct way to bring new musical thrills to people, but that becomes a question of moral / artistic choices.

The CD is accompanied by a DVD of the same concert, which adds no additional music beyond the contents of the CD and is therefore completely redundant.
---