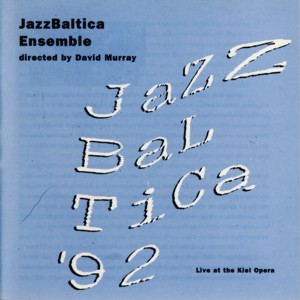 JAZZBALTICA ENSEMBLE / DAVID MURRAY ~ BALTIC SUITE
GOWI 05 ~ POLAND ~ Jazz
Recorded: 1992
Released: 1993
---
This is a relatively little known album recorded live by a large assembly of Jazz musicians from several countries situated around the Baltic Sea, called JazzBaltica Ensemble

Find albums by this artist

, directed by American saxophonist / composer David Murray

Find albums by this artist

. The music was recorded during the second JazzBaltica Festival held in Germany. The ensemble included some of the absolutely top-notch Jazz players from the Baltic countries, such as Polish trumpeter Tomasz Stanko

Find albums by this artist

, Swedish bassist Anders Jormin

Find albums by this artist

, Finnish drummer Jukkis Uotila

Find albums by this artist

and many others. Another American taking part in the ensemble is tuba player Howard Johnson

Find albums by this artist

, who very often plays with European Jazz musicians. The music is a suite arranged for a large ensemble / Big Band, which comprises of several earlier compositions by Murray, which were reworked anew and incorporated into a coherent suite.

The music is a wonderful example of a Big Band setting, which allows for a series of expanded improvisations by all the participants, either individually or in small groups, accompanied by the entire ensemble. Although clear melodic themes are stated periodically, most of the music is freely improvised and allows for a large degree of individual expression. The solos are all exceptional, which is not surprising considering the incredible level of the musicians involved.

Although directed by Murray, this is typically European Jazz, with its relaxed and even somewhat melancholic ambience and sophisticated solos, which open up and explore new sonorities well beyond the standard Big Band arrangements. Several of these solo excursions depart beyond the thematic framework of the pieces, which build up this suite, being completely free spirited and spontaneously created, which is a norm as far as European Big Bands are concerned.

Overall this is a superb piece of large ensemble music, exquisitely performed and worthy of an honorable place among other similar efforts of European Jazz. For Tomasz Stanko aficionados, like myself, this is simply a must, especially since so few people know about this album!
---